No it does not. He is elated so many ignorant people are deceived!
I thought devotion to Jesus was that cause according to the Word of God!
John 14:6 "Jesus saith unto him, I am the way, the truth, and the life: no man cometh unto the Father, but by me."
Philippians 2:9-11 "Wherefore God also hath highly exalted him, and given him a name which is above every name: 10 That at the name of Jesus every knee should bow, of things in heaven, and things in earth, and things under the earth; 11 And that every tongue should confess that Jesus Christ is Lord, to the glory of God the Father."
I do not see any reference to Mary there do you? In fact, there is NOTHING ANYWHERE in Scripture that would suggest that Mary is exalted or that Lucifer fears her! Only fools who can't read and discern would believe it!

Galatians 1:6-9 "I marvel that ye are so soon removed from him that called you into the grace of Christ unto another gospel: 7 Which is not another; but there be some that trouble you, and would pervert the gospel of Christ. 8 But though we, or an angel from heaven, preach any other gospel unto you than that which we have preached unto you, let him be accursed. 9 As we said before, so say I now again, If any man preach any other gospel unto you than that ye have received, let him be accursed.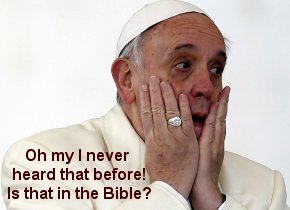 Excerpt from the Ass Clowns at ChurchMilitant.com – The recent earthquakes in Mexico have some of Pope Francis' comments going viral.
In a video interview from January, Pope Francis explained how he feels Mexico's devotion to the Virgin of Guadalupe is the reason they are hit with so many catastrophes. "I think that the devil punishes Mexico with much anger because the devil doesn't forgive Mexico that she [the Virgin of Guadalupe] has shown her son there," he says.
Mexico has been struck with two major earthquakes in two weeks. The first, a magnitude 8.1 quake, hit on September 8 and killed 61. The second, a 7.1 magnitude that killed over 300 and counting, hit September 19 — the anniversary of the 1985 Mexico City quake that killed thousands and the anniversary of Hurricane Hilda hitting Tampico in 1955, killing 200.
"It is an interpretation of mine that Mexico is privileged in martyrdom for having recognized, defended its mother," Pope Francis says. Some of the nearly 9,000 comments agree with Francis, but others disagree, citing that it is actually the turning away from God that is the cause of the disasters.
The turning away from God is evidenced by the legalization of abortion in 2007, the massive number of murders of civilians and clergy and the widespread acceptance and public veneration of "Santa Muerte."
In 2013, the Vatican condemned Santa Muerte — Holy Death, as blasphemous and a degeneration of religion. Even with the condemnation, Catholics still venerate the "skeleton saint" to lead them to the afterlife.
Drug cartels invoke the intercession of Santa Muerte to protect shipments of drugs from law enforcement. Ritual killings involving the cult are also increasing and police are reporting that many times they find elaborate shrines to the Santa Muerte during drug raids.
The disasters are because of YOUR

False Doctrine! Catholics invoke the same demons in their ritual at Mass and it the human sacrifice in the Vatican basement! Wake up you stupid people!
Read the rest from this Synagogue of Satan, which you have to PAY to view their video content!