NEW DELHI (Morning Star News) – About 20 villagers questioning Christians gathered for worship in a home in Odisha state, India were animists who worshipped objects in nature and other gods, but Hindu nationalists had led them there.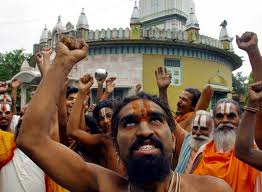 "Why have you left your ancestral faith and begun following the Christian faith?" a few of them asked, in succession, accusing them of trying to convert everyone in Kendupada village, Dhenkanal District. "If everyone in the village becomes Christian, where would the village gods go?"
In an increasingly common phenomenon, Hindu nationalists trying to drive a wedge between tribal peoples and Christians had persuaded the villagers that those who had left their beliefs, sacrifices and other rituals had betrayed their ancestors, gods, and the country of India. The Hindu nationalists then obtain tribal support for political candidates and policies and introduce Hindu beliefs and practices into animist religious systems, analysts say.
"They were told that no Christian would be allowed to stay in the village and strictly instructed them not to share the gospel with anybody," said Sukanta Naik, a volunteer for the Evangelical Fellowship of India, who visited the 27 Christians after the mob attacked them that day (Feb. 20).
The villagers issued threats to the five families of the house church, pressuring them to return to their ancestral beliefs, and when the Christians refused to do so, the tribal animists and Hindu nationalists began to beat them, Naik said.
"They grabbed three women – Raibari, Sabita and Malati – and paraded them around the village while beating them severely," he told Morning Star News.
The women sustained serious internal injuries, and Raibari, 54, injured her left eye, while the 26-year-old Sabita's right hand was hurt. In all, seven Christians were reported to have sustained serious injuries as a result of the attack.
The five families, the only Christians in a village of 206 families, had all previously practiced native tribal religions, with four of them converting in the past two years and one family eight years ago.
Rango Kuldi, 52, the first in the village to become a follower of Christ, was beaten ruthlessly and still complains of pain, Naik said. His son, Guru Kuldi, an 18-year-old high school student, received stitches from a deep cut on his head. Rango Kuldi's wife, Dusama, suffered internal injuries.
Pandu Tirai, 62, was beaten badly on his right ear, which bled relentlessly, sources said. He has lost his hearing in the ear. When Naik visited him nearly a month after the attack, his ear was still bleeding.
"The doctor has advised a scan," Naik said.
Raju Chatar, 40, sustained an injury on his left leg and continues to have swelling. Uchhaba Taison, 32, the husband of Malati, sustained several blows on his back and internal injuries, besides visible external wounds.
Some of the injured were admitted at the hospital at Kamakhya Nagar, nearly 35 kilometers (21 miles) from their village, while others were treated at a local clinic.
"They got their treatment done at their own expense, even though the police station in-charge had instructed the assaulters to pay for the Christians," Naik told Morning Star News.
The five Christian families fled their homes to save their lives, taking refuge in a neighboring village for almost a week.
Arranged Agreement
After the Christians filed a First Information Report (FIR) at a local police station, officers summoned the families and the assailants and brokered an agreement, Naik said.
"The police personnel have instructed the Hindu extremists not to interfere in the Christian worship services and fellowship meetings," he said. "We wonder how long the extremists will abide with the instructions. Such warnings have been issued to them even in the past, but to no avail."
In spite of the opposition and ostracization from villagers, the Christian families remain steadfast in their commitment to Jesus, he said.
"Though they have begun to find relief in their physical bodies, fear has gripped their minds, and they need much prayer," Naik said.
Kendupada village, nearly 100 kilometers (62 miles) from Bhubaneshwar, the state capital, is an undeveloped area where most of the population follows the tribal faith with the exception of a few Hindus.
"Lately Hindu right-wing groups have been very active here in reaching out to the tribals and indoctrinating them," Naik said.
The remote Christian families are overseen by a pastor from Mayurbhanj, nearly 350 kilometers (217 miles) away. He travels regularly to offer them care.
Odisha, where Christians make up less than 2.8 percent of the total population, was known as Orissa when the worst persecution of Christians in India took place there in 2008. More than 120 people lost their lives, at least 50,000 people were internally displaced and more than 6,000 Christian homes were destroyed and damaged.
The hostile tone of the National Democratic Alliance government, led by the Hindu nationalist Bharatiya Janata Party, against non-Hindus, has emboldened Hindu extremists in several parts of the country to attack Christians since Prime Minister Narendra Modi took power in May 2014, religious rights advocates say.
India ranked 11th on Christian support organization Open Doors' 2018 World Watch List of countries where Christians experience the most persecution, up from 15th the previous year, and ahead of Saudi Arabia, Nigeria and Egypt.
© 2018 Morning Star News. Articles/photos may be reprinted with credit to Morning Star News.
---
If you go to the store to buy Meat, don't run to the Milk section or the Junk Food aisle looking for it!!
The Meat Section is the
True Gospel of Jesus Christ
.
The Milk Section is likened to those who will not preach on sin and
Hell
, just a feel good message, the Social gospel.
The Junk Food Isle is the outright false doctrine AKA the prosperity gospel, name it and claim it, the Hebraic Roots movement and other false teachings!!
Feasting on just Milk and Junk will eventually cause you great harm, you can count on it!!
---
If you appreciate what this Ministry is doing to Expose the Fake Christians, Satanists, Witches, Communist/Socialist Democrats, R.I.N.O Republicans and the assault on our Conservative, True Christian values,
please consider a small donation
to help us continue and expand. This Ministry is not only under attack by the Enemy, we are now under attack from supposed Christians also. It is what
Tom Horn calls 'Blood on the Altar"
!