The Pennsylvania affiliate of Planned Parenthood tweeted – and then deleted – its statement announcing its wishes for a Disney princess who has had an abortion and who satisfies the left's fantasy of identity politics.  Planned Parenthood receives some $500 million in taxpayer funding every year through Medicaid and Title X grants for family planning. Source: Breitbart News
Not only are they fantasizing about a Princess that Murdered her Child, but they have other perverted fantasy's. These people who run, work for, and those who support Planned Murderhood are Demon Possessed and the Dregs of Society. Hell is getting full and is expanding to hold all of the murdering deviates!
Take a look at the other things they wish for.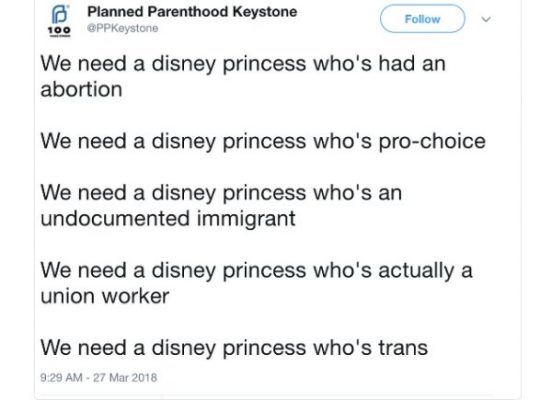 ---
1st Corinthians 16:22 "If any man love not the Lord Jesus Christ, let him be Anathema Maranatha."
Anathema - a person or thing accursed or consigned to damnation or destruction.
Maranatha - the Lord is coming" or "come, O Lord.
---
The tweet was captured before being deleted by Alex Pfeiffer, associate producer for Tucker Carlson Tonight.  I saw it on Breitbart, captured and saved this image. I am sure they will lie and say there was no such tweet!
Here is the deleted tweet from the organization the GOP funds. pic.twitter.com/ltj0e1o2aY

— Alex Pfeiffer (@PfeifferDC) March 27, 2018
I am sure that Disney will oblige the sicko who tweeted that out as well as the other requests! And I am sure YOU will keep supporting Disney when they do. They already have Homosexual cartoons you allow your children to watch!
---
If you appreciate the what this Ministry is doing to fight the Fake Christians, Satanists, Witches, Communist/Socialist Democrats, RINO Republicans and the assault on our Conservative, True Christian values, please consider a small donation to help us continue and expand. This Ministry is not only under attack by the Secular Scum, we are now under attack from supposed Christians also. It is what Tom Horn calls 'Blood on the Altar"!