Woman Laughs Ahead of Her 9th Abortion and Then Sees Her Aborted Baby
Life News — Abby Johnson's book The Walls Are Talking: Former Abortion Clinic Workers Tell Their Stories collects firsthand accounts from former abortion facility workers. The stories vary in theme, each one an abortion worker's memory of an event that stuck with her after she left. One story, called "Frequent Flyers," is about a young woman who had nine abortions.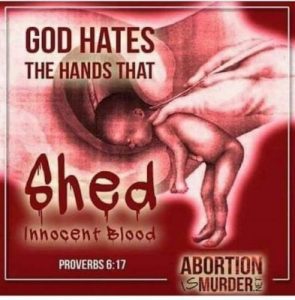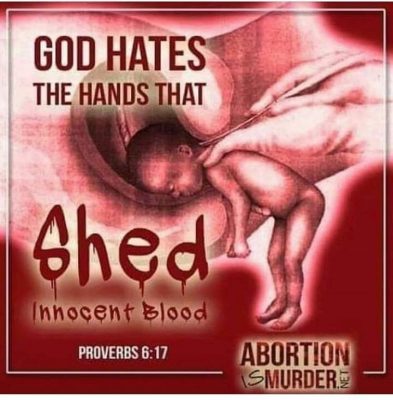 The chapter's author, who is unnamed, explains how women who came in for repeat abortions at her facility were called "frequent flyers" by the staff. Even though abortion facility workers were committed to promoting and providing abortions, some of them had judgmental feelings toward these "frequent flyers." The abortion facility worker says:
When Angie walks through our doors for her ninth procedure, even those of us whose paychecks were funded by abortion shook our heads and said "Really? Seriously?"…

Although it went against my own ideology, I wanted Angie to show some indication of remorse. I didn't want to feel that way about the numerous women who presented for abortions two, three, or even four times. But nine? That, I felt, deserved at least a slight show of regret or even a bit of good old-fashioned shame.
Angie showed no trace of guilt or any kind of distress when she came to the abortion facility. She had laughed through her first abortion, and every abortion since. It was not at all different when she came in for her ninth. The abortion facility worker described Angie's demeanor:
[S]he seemed to regard her visits to our clinic as an opportunity to perform her improv comedy act. "Could y'all just xerox my chart and I'll fill in the dates?" She would jest. Once the paperwork was in order, Angie would attempt to banter with the girls in the waiting room. "It's no big thing," she assured them. "I've done it 8 times before, and I have no regrets." Although I couldn't help but like Angie, her flippancy appalled me.
She showed no guilt or remorse of any kind:
Over the years, I had consoled and held the hands of scores of women who approached that same table with much trepidation. Some would weep, their knuckles white as they gripped my hand until it ached. Others would clutch Bibles to their chests and mouth prayers begging for forgiveness, even before the abortionist had begun his work and when their babies were still safe in their wombs. Many times women would climb onto the table and remain limp and unresponsive during the procedure. Mentally, they were a million miles away. And then there was Angie… Angie never even attempted to explain herself. When we would talk to her about birth control and try to set her up with an appointment to explore the matter further, she would just smile and politely refuse with a wave of her hand.
Angie was using abortion for birth control, not bothering to learn any other method. She may have gone on to have nine more abortions – but something happened.
Angie had no doubt heard pro- abortion rhetoric. She had certainly been told that abortion is only removing a ball of cells, a piece of tissue, or an undeveloped mass. But after her ninth abortion, she was curious and wanted to see the "tissue" for herself. She asked the abortion worker to show her the remains of the abortion, and the abortion worker complied. At 13 weeks, her baby was fully formed.
I debated about how to arrange the pieces. Would it be best to throw them all together in a clump so that none of the parts would be recognizable, or should I piece it back together as we normally did to ensure that none of the parts were missing. There was no protocol on such things, so in the end I opted to piece the parts back together.
Angie's reaction was not what the abortion worker anticipated:
"Thanks," she said, her trademark smile still fixed on her face. When her eyes traveled to the container, she gasped sharply, and for the first time since she had arrived, Angie was utterly silent. A few moments later her entire body shuddered and gooseflesh was raised on her smooth brown arms.

When she reached out her to touch the baby, I tried to pull the dish away. She grabbed my wrist and stopped me. We were both silent for a few moments as she continued to stare at the contents of the dish. I stepped back and Angie fell forward to her knees, her fingers still wrapped around my wrist. The other girls in the recovery run began to take notice, and my discomfort level rose exponentially.
Realizing her mistake, the abortion worker tried repeatedly to take the dish containing the bloody body parts away. But Angie held tight to the remains of her child, and wouldn't let the abortion worker pry it from her hands. The abortion worker said:
[Angie] remained frozen on the clinic floor. "That's a baby," she said, barely audible at first. "That was my baby," she said. Her volume steadily increased as a torrent of words poured from her mouth, words that made everyone extremely uncomfortable. "What did I do? What did I do?" she said over and over and began to sob. Some of the girls in the recovery run began to weep along with her. Some covered their faces with their arms or buried their heads in the arms of the recliners.
Finally, the abortion facility workers were able to tear away the dish. Angie became hysterical. Other abortion workers tried to calm her.
Fellow workers rushed to my side to calm Angie down. After a few minutes, it became obvious that she wasn't going to calm down. We couldn't even get her off the floor. After discussing it hastily, we decided to drag her to the bathroom. At least the heavy door would stifle her sobs to until we figured out what to do.

Angie flailed her arms and legs and her screams reached a fever pitch as we dragged her down the hall. We must have been quite a spectacle for the other girls in the recovery room. Finally we managed to place a still panicked Angie in the bathroom and closed the door. I suggested that she splash some cold water on her face and "pull herself together." Her cries, although muffled, were easily distinguished through the door.
Angie began begging the abortion workers to take her mutilated baby home with her. She did not want to part with her child, even though her child was dead. She pleaded with the workers to give in and let her have the baby. They refused. She continued to sob and wail in the bathroom, disrupting the entire facility.
The abortion workers finally went to her paperwork and found her emergency contact – the number the facility was supposed to call in the event of a life-threatening complication. They dialed the number and got her current boyfriend. He arrived at the clinic. It took him 45 minutes to coax Angie out of the bathroom. They both left the abortion facility in tears.
Angie never came to the facility again. The writer of the story does not know what happened to her. The road ahead of her, once she realized her responsibility for the deaths of nine of her children, would be agonizing to travel. We can only hope she found healing.
From then on, the abortion facility had a strict rule never to show the aborted babies to women. Ultimately, another scene like Angie's would slow down abortion facility operations and affect the facility's profits. More women would learn about fetal development, and there would be a decrease in the number of abortions. In order to keep everything running smoothly, quickly, and profitably, the facility banned all women from seeing their aborted babies.
Sometime later, the abortion facility worker who showed Angie her aborted baby left the abortion business. She does not give her reasons why, but the story of Angie and her emotional agony no doubt influenced her.
How many women go into abortion facilities not knowing how developed their children are? How many repeat abortion patients have no idea their babies were pulled limb from limb and then thrown out with the trash or sold for parts? All of the abortion facility workers that day discovered that the truth is the ultimate enemy of abortion. They were reminded how vital it is to keep the facts away from vulnerable women if abortion is to be sold to them. It was the only way to continue making money off them.
Source: Abby Johnson The Walls Are Talking: Former Abortion Clinic Workers Tell Their Stories (San Francisco, CA: Ignatius Press, 2016) 71-77
LifeNews Note: This article is reprinted with permission. The original appeared here at Live Action News.
---
If you go to the store to buy Meat, don't run to the Milk section or the Junk Food aisle looking for it!!
The Meat Section is the
True Gospel of Jesus Christ
.
The Milk Section is likened to those who will not preach on sin and
Hell
, just a feel good message, the Social gospel.
The Junk Food Isle is the outright false doctrine AKA the prosperity gospel, name it and claim it, the Hebraic Roots movement and other false teachings!!
Feasting on just Milk and Junk will eventually cause you great harm, you can count on it!!
---
If you appreciate what this Ministry is doing to Expose the Fake Christians, Satanists, Witches, Communist/Socialist Democrats, R.I.N.O Republicans and the assault on our Conservative, True Christian values,
please consider a small donation
to help us continue and expand. This Ministry is not only under attack by the Enemy, we are now under attack from supposed Christians also. It is what
Tom Horn calls 'Blood on the Altar"
!