Breitbart News – The death toll of last weekend's massacre of Nigerian Christians by militant Muslim Fulani herdsmen has risen to at least 200, according to a report released Friday by Open Doors, an organization that monitors Christian persecution.
As Breitbart News reported earlier this week, heavily armed gunmen recognized as Fulani herdsmen opened fire on Christians in a number of villages in Plateau State of central Nigeria last weekend, killing scores and injuring hundreds more, as well as burning some 50 homes to the ground. Most of the victims were returning home from the funeral of the father of a local Christian minister.
Despite the evidently religious nature of the slaughter, mainstream media chose to downplay the militant Islamism behind the attacks, preferring to attribute the violence to "ethnic tensions," a "battle for land and resources," or even " climate change." Source: Breitbart News
Who are the Fulani herdsmen?
---
1st Corinthians 16:22 "If any man love not the Lord Jesus Christ, let him be Anathema Maranatha."
Anathema - a person or thing accursed or consigned to damnation or destruction.
Maranatha - the Lord is coming" or "come, O Lord.
---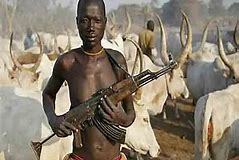 The Fulani herdsmen, also known as the Fulani militia, are a semi-nomadic, pastoralist ethnic group living in the central regions of Nigeria, predominately in the Middle Belt. The majority of the Fulani herdsmen are Muslim. They have clashed with indigenous tribes and local, mainly Christian, farmers over grazing land over the centuries. However, as Open Doors explains, the clashes intensified around the time of the 2011 and 2015 elections, and again earlier this year. The regions most affected by the violence include the areas of Jama'a, Kachia, Kagarko, Kaura and Sanga in southern Kaduna.
The atrocities perpetrated by the Fulani herdsmen include the destruction of houses and churches, as well as the seizure of land and properties belonging to Christian owners. Reports have also emerged of the Fulani herdsmen 'kidnapping Christian schoolgirls to marry them to Muslim men.' In its 2015 report, Open Doors lists detailed examples of such targeted attacks. The report rebuts the argument that the clashes were caused by environmental degradation and resulting migration. The report presents a more comprehensive picture incorporating some elements of religious persecution. Indeed, the conflict is extremely complex. Source: Forbes
---
If you appreciate the what this Ministry is doing to fight the Fake Christians, Satanists, Witches, Communist/Socialist Democrats, RINO Republicans and the assault on our Conservative, True Christian values, please consider a small donation to help us continue and expand. This Ministry is not only under attack by the Secular Scum, we are now under attack from supposed Christians also. It is what Tom Horn calls 'Blood on the Altar"!