Women on Waves need to have a Millstone hung on their necks, submerged and drowned!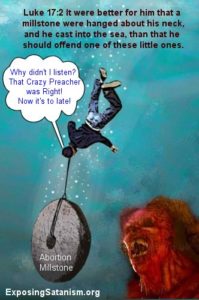 To get around the gambling laws in Texas, a casino boat makes its home in Galveston that takes people on a cruise a little over 12 miles out to international waters. I would not be surprised that one day all the major cruise lines have an abortion deck for legal murder. Lucifer is very cunning because there are lots of Skanky Harlots in Mexico too!
---
1st Corinthians 16:22 "If any man love not the Lord Jesus Christ, let him be Anathema Maranatha."
Anathema - a person or thing accursed or consigned to damnation or destruction.
Maranatha - the Lord is coming" or "come, O Lord.
---
Ixtapa (Mexico) (AFP) – A Dutch sailing boat offering abortions, often in defiance of some country's laws, arrived in international waters off Mexico, the organization crewing it said.
The "Women on Waves" vessel was expelled from near Guatemala in February without carrying out a single pregnancy termination.
It had taken up position off Guerrero state, on Mexico's Pacific coast.
The "Women on Waves" group said in an online statement that it was offering "free legal medical abortions till 9 weeks of pregnancy" to women who needed them. It said its ship "has all required permits" and would receive women until Sunday.
It noted that Mexico permitted abortions in cases of sexual violence. Abortion is limited in other cases to different degrees across the 31 Mexican states. Read the rest here.
---
If you appreciate the what this Ministry is doing to fight the Fake Christians, Satanists, Witches, Communist/Socialist Democrats, RINO Republicans and the assault on our Conservative, True Christian values, please consider a small donation to help us continue and expand. This Ministry is not only under attack by the Secular Scum, we are now under attack from supposed Christians also. It is what Tom Horn calls 'Blood on the Altar"!