Luke 10:19 "Behold, I give unto you power to tread on serpents and scorpions, and over all the power of the enemy: and nothing shall by any means hurt you."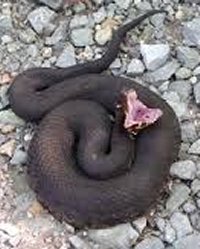 Local 15 Mobile Alabama – A 90-year-old woman is recovering tonight after being bitten by a venomous snake. The elderly woman was bitten at home but then drove to Hollinger's Island Baptist Church, where members called 911.
When 90 year old Nell Toenes arrived at her weekly crafty critter meeting, she told her girlfriends she'd had an interesting morning. She'd been bitten by a snake.
---
1st Corinthians 16:22 "If any man love not the Lord Jesus Christ, let him be Anathema Maranatha."
Anathema - a person or thing accursed or consigned to damnation or destruction.
Maranatha - the Lord is coming" or "come, O Lord.
---
"And I said well what kind of snake, and oh I don't know but it's out in the car in a jar. She said I stomped him with my foot and put him in a jar and brought him with me," said Barbara Rabbitt.
A quick search online and the ladies realized, she'd been bitten by a poisonous water moccasin. The snake had bitten her on her right hand while she was in the garage.
"She thought it was a leaf. It was coiled up, and she was just going to pick it up," said Rabbitt.
---
If you appreciate the what this Ministry is doing to fight the Fake Christians, Satanists, Witches, Communist/Socialist Democrats, RINO Republicans and the assault on our Conservative, True Christian values, please consider a small donation to help us continue and expand. This Ministry is not only under attack by the Secular Scum, we are now under attack from supposed Christians also. It is what Tom Horn calls 'Blood on the Altar"!