Judge unhappy with pro-abortion ordinance
Dr. Kermit Gosnell: America's Biggest Serial Killer Movie
Facebook blocks ads for film exposing notorious abortionist
Planned Parenthood Marketing Plan to 'Expand' Abortion on Demand
Abortion Lobby Group Spends $1M on Ads Attacking Key House Republicans
Planned Parenthood unveils abortion 'underground railroad' for post-Roe America
'It Makes Me Vomit': Stericycle Driver Laments Medical Waste Company's Service to Abortion Industry
Abortion, Roe v. Wade at center of Supreme Court nominee debate: What could happen to the landmark law?
Planned Parenthood Is Grooming Our Kids to Be Sexually Active and to be future Costumers supplying a steady Sacrifice to Satan!
Pope says abortion is like hiring 'contract killer' Only the second time I have agreed with this False Prophet. A broken clock is right twice a day!
Florida Man Charged With Two Counts of Murder After Allegedly Killing Pregnant Mistress  So if you kill a Pregnant Mother that is also considered Murder of a Baby. If you do it by Abortion it is removing a fetus and legal? Help me out with the logic of that one!!! 
Woman Behind Roe v. Wade Found God and Vowed To Reverse Law – Actually what she found was mere "Religion" and NOT the True Gospel of Jesus Christ!
Psalms 127:3 "Lo, children are an heritage of the LORD: and the fruit of the womb is his reward."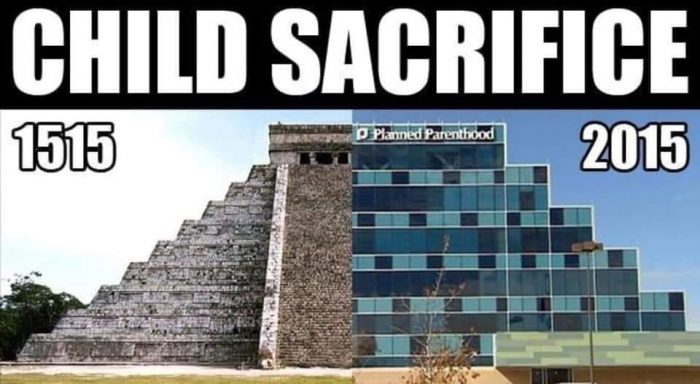 ---
If you appreciate the what this Ministry is doing to fight the Fake Christians, Satanists, Witches, Communist/Socialist Democrats, RINO Republicans and the assault on our Conservative, True Christian values, please consider a small donation to help us continue and expand. This Ministry is not only under attack by the Secular Scum, we are now under attack from supposed Christians also. It is what Tom Horn calls 'Blood on the Altar"!