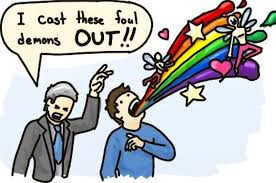 JAKARTA: Indonesia is about to publish a medical guide where it has listed homosexuality as a mental disorder, the Health Ministry said on Friday.
According to the guide, lesbians, gays, bisexuals and transsexuals community are at risk of mental disorders owing to their sexual orientation, the Ministry's Director of Prevention and Control for Mental Problems told Efe news.
The guide is based on two reports — one drafted in 2016 by the Indonesian Psychiatrists Association (PDSKJI) and the other by the Health Ministry last year.
The PDSKJI report said "gays and bisexuals were at risk of emotional problems such as depression owing to identity crises while transsexuals are susceptible to mental diseases".
Homosexuality is legal in Indonesia, except in the Aceh province, in Sumatra island, where the Islamic Sharia law is in force. Source: India Times
They need to go a step further and list it as a result of Demon Possession which is the case in all of the Mental Disorders that Quacks have labeled!
The Cure is Jesus Christ and what he did for you on the Cross of Calvary!