Human Life International lists Products that use Aborted Fetuses – Warning gruesome!
Two current issues that separate the two major political parties are climate change and abortion.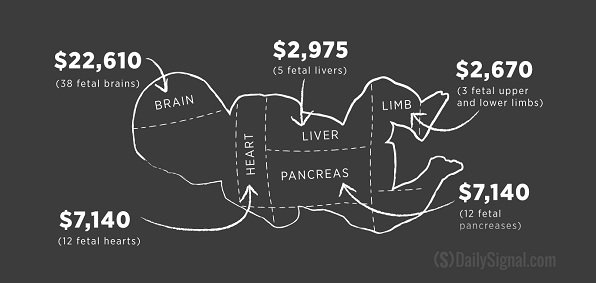 Andrea Byrnes – One party believes that the climate is changing but mankind has little to do with the changes. The other party believes that it is mankind that is destroying the planet and therefor mankind must be punished (with taxes and regulation) or even cannibalized in order to save the planet. A closely related issue is abortion. Why? Because by having fewer babies, or no babies at all, one can save the planet from extinction according to the policies of one major political party candidate for President of the United States, Senator Bernie Sanders.
PLANNED PARENTHOOD AND ENVIRONMENTALISTS
Planned Parenthood and Environmentalists have joined forces to save planet earth by controlling global population. In the Planned Parenthood Global booklet titled Health Has No Borders on page 10 describes the intersection of the abortion industry and environmental movement, as a global partnership:
Women's health is directly linked to the state of their environment. When rural environments become unsustainable, it is women whose lives are most disrupted. To address this issue, Planned Parenthood partners with local environmental advocates to integrate women's health and empowerment into the work that they do. [Emphasis added]
Health Has No Borders describes how Planned Parenthood partnered with environmental advocates like Fundaeco (Foundation for Ecodevelopment and Conservation) in Guatemala:
In Guatemala we work with Fundaeco, one of the country's largest environmental organizations. Before partnering with Planned Parenthood Global, Fundaeco had done some community organizing, but felt they had hit a brick wall in disseminating their message. To truly get their campaigns going, they determined they needed to focus not just on the local environment, but on the human rights of the local population.

Enter Planned Parenthood Global.

We made an initial investment to pilot three community health centers in one of the protected areas in southeast Guatemala. To ensure local ownership, these health centers were created by donations of land or supplies from local villages within the protected areas. [Emphasis added]
The founder of Planned Parenthood Margaret Sanger wrote:
The most merciful thing that a family does to one of its infant members is to kill it.
This mantra is being carried out globally, and funded by local governments and organizations such as the United Nations.
SELLING HUMAN FETUSES
On July 19, 2015 we published an article titled Kraft, Pepsi, and Nestle Using Aborted Babies For Flavor Additives in which listed dozens of companies that use fetal tissue to enhance the flavor of their products. Note: Food and beverages do not contain any aborted fetal material; however, they may be tastier because of it.
Since that time the Center for Medical Progress (CMP) has published a series of undercover videos detailing how Planned Parenthood sells the body parts of fetuses to companies for profit. Here is just one CMP video:
Andrea Byrnes from Human Life International published a column titled Products That Use Aborted Fetuses.
Byrnes writes:
Do some products contain fetal parts? The short gruesome answer: Yes.

Today's consumer products are not the soap and lampshades of recycled Nazi concentration camp victims. The new utilitarian use of people is a sophisticated enterprise, not visible to the human eye.
Byrnes looks at three areas where fetal body parts are used:
Food and Drink

Cosmetics

Vaccines and Medicine
While actual fetal body parts are not contained in food and drink products they are contained in cosmetics, vaccines and medicine. Byrnes reported:
The fountain of youth…is babies.

Commercially, it's known as Processed Skin Proteins (PSP), developed at the University of Lausanne to heal burns and wounds by regenerating traumatized skin. The fetal skin cell line was taken from an electively aborted baby whose body was donated to the University.

[ … ]

The Vaccine Card at the Sound Choice Pharmaceutical Institute (SCPI) website lists over 21 vaccines and medical products that contain aborted fetal cell lines. The Card is updated yearly, and also lists ethical vaccine alternatives when there are any.
EUGENICS
"Eugenists imply or insist that a woman's first duty is to the state; we contend that her duty to herself is her first duty to the state. " – Margaret Sanger, Eugenist and founder of Planned Parenthood.
In a column titled New York Times' '1619 Project,' the MacArthur Foundation and Eugenics we wrote about the 1998 book "Archons And Acolytes: The New Power Elite" written by Clarence C. Walton wrote:
Eugenics became a fashionable cause, and courses in the subject were soon introduced by a number of colleges and universities. The Rockefeller Foundation provided ample financial support, generously funding international conferences and research projects, and earning unwanted praise from the Nazis who welcomed the international respectability that their eugenicists needed. Today the Ford and MacArthur Foundations have also made population control a major objective of their funding efforts. In the first phase of the eugenics movement, artificial birth control (with Margaret Sanger identified as its major force) became the preferred method for controlling population growth." [Emphasis added]
Eugenics was created in the United States and its goal was and remains "population control." Eugenics was quickly adapted by the Nazis to further their ideology of a "genetically superior" Aryan race.
Today eugenics is called genetics. It's goal is the same, a genetically pure race.
A genetically pure race requires the ultimate in government control. The Green New Deal provides for tyrannical government control over every aspect of our lives and lively hoods. The battle cry is "save the planet." Their success will measure in the reduction of numbers of people globally. It's ultimately about the elites, in government and research labs, determining who lives and who dies.
About Andrea Byrnes:
Writer Andrea Byrnes was the first producer of U.S. March for Life coverage at EWTN Global Catholic Network, which she continued to supervise for seven years. She attended her first HLI conference in 1989, where she first met Servant of God Dr. Jerome Lejeune. She and her husband would later pray for Lejeune's intercession for her son's health difficulties discovered before birth, and thanks be to God, he is thriving.
RELATED ARTICLES:
Mapped-out: Where It's Dangerous in America to Be Born Alive
Stillborn Baby Showed Signs of Life, But This Doctor Put Him in the Morgue Fridge to Freeze to Death
Babies Born Alive After Abortion Can be Left to Die in 16 States
Planned Parenthood Fights To Hide Evidence Of Selling Fetal Tissue In Daleiden Trial
Moroccan Feminists Vow To Abort Their Babies to Protest Laws Protecting the Unborn
Comprehensive List Of Companies That Use Aborted Fetal Cells As Flavour
Meet the Company Buying Planned Parenthood's Baby 'Specimens'
Prager U misses the key piece on leftist-Tolerance
NC Legislators Working To Overturn Gay Marriage: "Tell It To Satan!"
RELATED VIDEO: The Vortex — Pagan Prayer and Tree Planting at the Vatican.
---
If you go to the store to buy Meat, don't run to the Milk section or the Junk Food aisle looking for it!!
The Meat Section is the
True Gospel of Jesus Christ
.
The Milk Section is likened to those who will not preach on sin and
Hell
, just a feel good message, the Social gospel.
The Junk Food Isle is the outright false doctrine AKA the prosperity gospel, name it and claim it, the Hebraic Roots movement and other false teachings!!
Feasting on just Milk and Junk will eventually cause you great harm, you can count on it!!
---
If you appreciate what this Ministry is doing to Expose the Fake Christians, Satanists, Witches, Communist/Socialist Democrats, R.I.N.O Republicans and the assault on our Conservative, True Christian values,
please consider a small donation
to help us continue and expand. This Ministry is not only under attack by the Enemy, we are now under attack from supposed Christians also. It is what
Tom Horn calls 'Blood on the Altar"
!