HYDERABAD, India (Morning Star News) – Christians in southern India are increasingly living in fear as the level of violence against them continues to rise, sources said.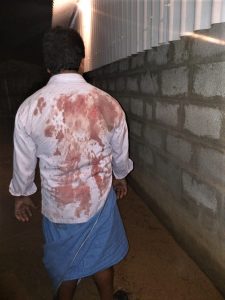 The southern states of Karnataka, Telangana, Andhra Pradesh, Tamil Nadu and Kerala saw at least 60 cases of persecution of Christians in the first nine months of 2018, compared with 36 such attacks in the first nine months of 2017, according to religious freedom advocacy group Alliance Defending Freedom (ADF)-India.
Although none of the states' governments has explicit connections with the Bharatiya Janata Party (BJP), commonly known as the political arm of the Hindu extremist Sangh Parivar (Rashtriya Swayamsevak Sangh and its affiliates), the RSS volunteers are found throughout regional, secular parties, sources said.
"In Tamil Nadu, RSS activists are provoking the Hindus in their speeches at public gatherings to cause communal tension," the Rev. Sagaya Raj, deputy secretary of the (Roman Catholic) Tamil Nadu Bishops Council told Morning Star News. "The current situation is alarming – our state was a peace-loving state, and we lived in harmony. The recent attacks on Christian community are very disturbing."
In one case, a mob of nomadic Hindus in Veppur village, Vellore District, on Sept. 13 attacked an elderly Christian woman as she took her usual late-evening walk while they were celebrating the birthday of the Hindu elephant god Ganesha in a procession.
As Hindus were carrying a Ganesha idol, four members of the mob stopped her and rebuked her for using the road, Christian resident Esther Moses told Morning Star News.
"One was yelling, 'You converted to Christianity, and you are an 'untouchable' – how can you use the road when our Vinayagar [Ganesha in Tamil] is passing from here? You are impure, and now you made the road impure by walking on it,'" Moses said.
The rest of mob also reviled her for "defiling" their festivities, she said.
"They became very aggressive, so that they started beating her," Moses told Morning Star News. "The entire neighborhood belongs to nomadic tribes – they are not upper castes over us, yet the Hindu gypsies hate us and treat us like untouchables."
Church members who live on the same street rushed to rescue her and were also attacked, she said.
"It is not just about the Ganesha procession – they always had problems with Christians using the road," she said. "They warned us several times in the past. They tell us, 'We belong to RSS, and you are Christians. We cannot both walk on the same road. If you see us passing by, go inside your houses and don't come out until we are gone."
More than 10 Christians sustained minor injuries, including a father and son who took strong blows to their heads and noses, Moses said.
"The goons in the mob were heavily drunk," she said. "They started hurling stones at the Christians who came to rescue the elderly lady."
Pastor Emmanuel Paul of the Tamil Nadu Synod of Pentecostal Churches told Morning Star news 13 injured Christians were admitted to a government hospital that night. They were later transferred to Christian Medical College hospital in Vellore.
"The boy who suffered the nose injury was gasping for breath, his nasal bone was fractured," Pastor Paul said. "And his dad received blows on his head and was bleeding heavily."
Moses' husband, a convert from a nomadic Hindu tribe, planted a church in the area about four years ago.
"At least 50 believers gather for worship services every Sunday, and this road off our street is the only route that connects us to the church," she said.
Church leaders submitted a written complaint, and police registered a First Information Report (FIR), but they said they have no indication that any action has been taken against the assailants.
Tamil Nadu
RSS members from Tamil Nadu's Erode District on Sept. 2 stormed into a Sunday evening prayer service at a Christian's house in the Chennimalai area.
As the Christians had just moved into their new home, the gathering also included a house-warming party, a local resident identified only as Ponnaiyan told Morning Star News.
"The Christian family prepared a vegetarian meal and had invited all the neighboring families, and also their church members and relatives, over for dinner," Ponnaiyan said. "At first, the RSS members disrupted the prayer service, then they raided the kitchen. They were searching for beef [forbidden in Hinduism]."
Ponnaiyan said he has never been so disgusted.
"For the first time, I saw a family's kitchen, utensils, fridge and dishes being searched for beef, just because they are Christian," he said. "The RSS people had put their hands in the food searching for beef, making it unsafe to consume."
The next morning he notified political party officials, activists and Christian leaders, saying that the matter must be brought to Superintendent of Police Sakthi Ganesan, he said. With members of all political parties and the synod present, Ganesan showed little concern for the issue, he said.
"To our disappointment, Ganesan simply said, 'This is a very common thing' and was not at all moved by the incident," Ponnaiyan told Morning Star News. "He said those words on record in front of the media."
Pastor Nehemiah Christie, director of legislations and regulations of the Synod of Pentecostal Churches and ADF-India's Tamil Nadu state coordinator, was among witnesses representing the matter to the Erode police official.
"We told Ganesan that it's a violation human rights, and the police must take action," Pastor Christie said. "But he answered back that Christians run churches without permission. There was no sync; we are highlighting a serious problem a Christian family faced because of their faith, and he was talking about church permission. It was very disappointing."
Ganesan is the the same officer who registered a counter-case against a victim of attempted sexual assault against an Erode-based pastor's wife, as reported by Morning Star News in July.
Among southern states, Tamil Nadu alone has recorded 37 incidents of attacks against Christians, out of a total of around 170 reported throughout India in the first nine months of this year, according to ADF-India.
ADF notes in its campaign celebrating the 70th anniversary of the U.N. Universal Declaration of Human Rights that it is sadly ironic that Christians are persecuted in a country with a long tradition and legal framework of freedom of religion.
Article 18 of the U.N. declaration asserts that believers have the freedom to practice their faith "in teaching, practice, worship and observance," ADF notes in its campaign to obtain signatures supporting the Geneva Statement on Human Rights at www.ImHumanRight.org.
Forced to Demolish Walls
In Telangana state, a pastor visiting the site of his house under construction in Tadvai Mandal, Kamareddy District, was attacked by Hindu extremists from the RSS.
The 49-year-old pastor on the morning of Sept. 10 received a call from a worker of the local electricity board who informed him that he would set up the house's electrical wiring and connection. He had travelled about 25 kilometers (15 miles) to reach the site and was waiting inside for the line-worker, said the pastor, whose name is withheld for security reasons.
"Four men barged inside and started beating me," he said. "They said, 'How dare you construct a church here?' and abused me in extreme vulgar language."
They told him they would take him to the village council to ask about the construction and dragged him to the council office, he said. Not finding the council president, they telephoned him and asked about permission.
"They punched me in my stomach and back at the council's office, and then they brought me back to the construction site," he said.
The four assailants, all in their mid-30s and identified as Mudaam Narsimhulu, Srinivas Reddy, Raghava Reddy and Padaganti Rajeshwar, forced the pastor to demolish the walls of his house, he said.
"I could only destroy only a portion of the wall and was exhausted," he said. "I told them that I can't do it and pleaded them to leave me. But they took me to the police station and asked the station house officer to book a case against me that I was constructing a church in the area."
He told the officers that he had documents showing that he had secured permission and that the construction was legal, and Tadvai police booked the four assailants for attempt to murder, public nuisance, voluntarily causing hurt, causing hurt with dangerous weapons, mischief causing loss or damage of over 50 rupees and promoting enmity between classes under the Indian Penal Code.
Within 10 days, the attackers were released on bail, he said.
"I am still living in fear and have not gone to Tadvai village since the day of attack," the pastor said. "It is a spacious plot of 500 square yards. Our desire was to establish a house church there so a pastor can reside with his family, and the believers from Tadvai and neighboring villages can gather for worship and prayers."
The Kamareddy Regional Pastors Association (KRPA) reported the attack to the local member of the legislative assembly, he said.
"He assured us that the matter will be taken seriously, but later we found out that the elected member is a close associate of the assailants and was trying all means for their bail," he said.
A KRPA leader said those accused are the same RSS members who attacked pastor Steven Paul about six months ago, also in Kamareddy District.
"We informed the police that the four accused are repeat offenders, and the police assured us that further they will be categorized as rowdy sheeters [repeat offenders]," said the KRPA leader, who pastors a village church in Kamareddy. "There is severe opposition to church gatherings and gospel sharing in Telangana state as well, and in the coming years it is only going to escalate. We request prayers so even if we are put to severe persecution, our faith may grow stronger."
The hostile tone of the National Democratic Alliance government, led by the Hindu nationalist BJP, against non-Hindus, has emboldened Hindu extremists in several parts of the country to attack Christians since Prime Minister Narendra Modi took power in May 2014, religious rights advocates say.
India ranked 11th on Christian support organization Open Doors' 2018 World Watch List of countries where Christians experience the most persecution.
© 2018 Morning Star News. Articles/photos may be reprinted with credit to Morning Star News.
---
If you go to the store to buy Meat, don't run to the Milk section or the Junk Food aisle looking for it!!
The Meat Section is the
True Gospel of Jesus Christ
.
The Milk Section is likened to those who will not preach on sin and
Hell
, just a feel good message, the Social gospel.
The Junk Food Isle is the outright false doctrine AKA the prosperity gospel, name it and claim it, the Hebraic Roots movement and other false teachings!!
Feasting on just Milk and Junk will eventually cause you great harm, you can count on it!!
---
If you appreciate what this Ministry is doing to Expose the Fake Christians, Satanists, Witches, Communist/Socialist Democrats, R.I.N.O Republicans and the assault on our Conservative, True Christian values,
please consider a small donation
to help us continue and expand. This Ministry is not only under attack by the Enemy, we are now under attack from supposed Christians also. It is what
Tom Horn calls 'Blood on the Altar"
!