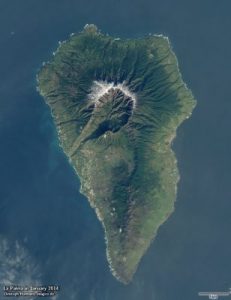 La Palma was rocked by more than 40 seismic movements of low magnitude and intensity between 1.5 and 2.7 on the Richter scale, according to the data of the National Geographic Institute.
The biggest earthquake, recorded at around 1pm on Saturday, had a magnitude of 2.7 and took place in the area of the Natural Park Cumbre Vieja, 28 kilometres deep.
---
1st Corinthians 16:22 "If any man love not the Lord Jesus Christ, let him be Anathema  Maranatha." 
Anathema
-
a person or thing accursed or consigned to damnation or destruction
. 
Maranatha - the Lord is coming" or "come, O Lord.
---
The second largest quake, of 2.6, took place at 1.23pm on Sunday in the same area, while the third quake erupted at midnight on Monday, reaching a magnitude of 2.1, according to the Volcanological Institute of the Canary Islands (Involcan).
The earthquakes have sparked panic across the Canary Islands, with volcano experts pulled in to examine the unusual seismic activity.
If it blows, and a land slide occurs, it could send a Tsunami like nothing seen in recent times. See this animation.