Claims 'It Was Me or Them'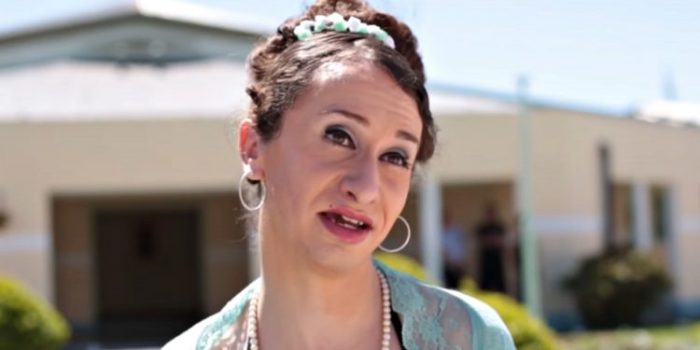 National File – A tranny woman from Argentina, who has become something of a local celebrity, claims they have found peace, and said that "It Was Me or Them" situation, after murdering their mother and brother because they refused to accept their gender identity.
Marcelo Bernasconi, who went by the name "Marilyn" after transitioning, murdered his mother and brother in 2009, when they were merely eighteen years old.
---
1st Corinthians 16:22 "If any man love not the Lord Jesus Christ, let him be Anathema Maranatha."
Anathema - a person or thing accursed or consigned to damnation or destruction.
Maranatha - the Lord is coming" or "come, O Lord.
---
Marilyn claims to have been tormented by family members for over a year before the murder, until they decided to take matters into their own hands, claiming that "either I kill myself or I kill them."
The convicted killer also says that during the day, they were subject to verbal abuse from the men at their rural town, but, at night, they would act sexually towards him.
Marilyn finally snapped, grabbing a rifle from the family home and executing their mother and brother by shooting them in the back of the neck.
At first, the murders were covered up as a botched burglary when Marilyn called the police and told them that they had been killed by thieves.
On the way to the police station, Marilyn reported a sense of liberation and peace as their nagging voices, disapproving of his gender identity, were no longer audible in Marilyn's mind.
Although Marilyn is serving life with a possibility for parole, in a prison pavilion dedicated to LGBT+ men in Argentina, Marilyn is seeking a reduced sentence, citing that the murders were committed out of violent emotion and immaturity.
Marilyn married a fellow inmate in 2013 who was convicted of raping ten women at weapon-point.
The couple divorced after five months.
Marilyn contracted HIV in 2015 while incarcerated.
Although Marilyn remains imprisoned, Marilyn reports a greater degree of freedom from their cell as staff use their preferred pronouns on their medical records and in person.
---
If you appreciate the what this Ministry is doing to fight the Fake Christians, Satanists, Witches, Communist/Socialist Democrats, RINO Republicans and the assault on our Conservative, True Christian values, please consider a small donation to help us continue and expand. This Ministry is not only under attack by the Secular Scum, we are now under attack from supposed Christians also. It is what Tom Horn calls 'Blood on the Altar"!