They did the same as the false religion of Catholicism. See that Blasphemy here.
Leviticus 26:1 "Ye shall make you no idols nor graven image, neither rear you up a standing image, neither shall ye set up any image of stone in your land, to bow down unto it: for I am the LORD your God."
Christian Post – A Presbyterian Church (USA) congregation in New York has garnered controversy for its decision to host a pagan sculpture on their property.
The United Presbyterian Church of Binghamton, a PC(USA) congregation associated with the pro- LGBT group More Light Presbyterians, hosted a fifteen-foot tall totem sculpture known as the Sviatovid.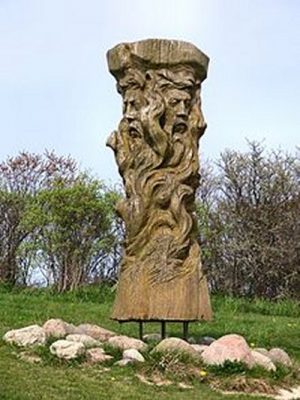 Svetovid God of war, fertility and abundance
Sometimes referred to as Beli (or Byali) Vid (Beli = white, bright, shining), Svetovid is associated with war and divination and depicted as a four-headed god with two heads looking forward and two back. A statue portraying the god shows him with four heads, each one looking in a separate direction, a symbolical representation of the four directions of the compass, and also perhaps the four seasons of the year. Each face had a specific colour. Source: Wikipedia
The sculpture, which was created by Bart Kresa Studio designer Akira Wakui, was put on display at the church earlier this month as part of the LUMA Festival.
"Sviatovid will materialize in the sanctuary of Binghamton United Presbyterian Church with additional content," noted an announcement on LUMA's website.
"In an homage to the striking 19th century architecture of the church, the students of the BARTKRESA academy will build an original 3 1/2 minute pre-show. The church spire, pipe organ and stained glass inform the new work."
The hosting of the sculpture received the attention of the theologically conservative group the Institute on Religion & Democracy, which reported on it last Thursday. 
The United Presbyterian Church of Binghamton, New York. | Courtesy United Presbyterian Church of Binghamton
"Sviatovid (alternately known as Svetovid, Svantovit, Sventovit, or Svantevit) was a local Slavic god of war, fertility, and abundance in the Baltic region," wrote Josiah Aden of the IRD. Read more here
Get out of this Satanic denomination as fast as you can. Repent for being part of this religion from Hell!
---
If you appreciate the what this Ministry is doing to fight the Fake Christians, Satanists, Witches, Communist/Socialist Democrats, RINO Republicans and the assault on our Conservative, True Christian values, please consider a small donation to help us continue and expand. This Ministry is not only under attack by the Secular Scum, we are now under attack from supposed Christians also. It is what Tom Horn calls 'Blood on the Altar"!