Charlatan Jesse Duplantis says that Christians can Speed Up the Second Coming of Jesus if they give more money
Charlatan Definition for those who do not know

A person who makes elaborate, fraudulent, and often voluble claims to skill or knowledge; a quack or fraud. One who pretends to knowledge, skill, importance, etc., which he does not possess; a pretender; a quack, mountebank, or empiric. Synonyms Impostor, cheat, pretender; Mountebank, etc.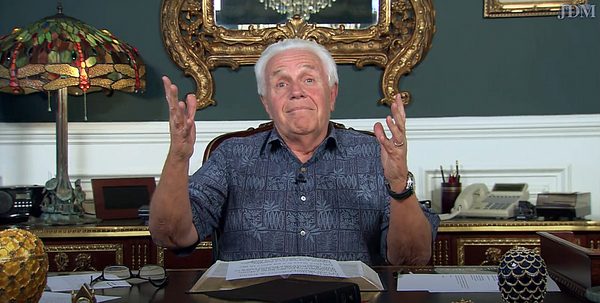 2nd Corinthians 11:13-15 "For such are false apostles, deceitful workers, transforming themselves into the apostles of Christ.14 And no marvel; for Satan himself is transformed into an angel of light. 15 Therefore it is no great thing if his ministers also be transformed as the ministers of righteousness; whose end shall be according to their works."
This Charlatan teamed up with Devil's Disciple Kenneth Copland in his fund raising event!
Jesse Duplantis claims Christians can 'speed up' Jesus' Second Coming if they give more money
Louisiana televangelist Jesse Duplantis said at a recent televised fundraiser that Christians "can speed up the time" of Jesus' Second Coming by donating more money.

"I honestly believe this … the reason why Jesus hasn't come is because people are not giving the way God told them to give," he said, according to a clip shared on Twitter by the left-wing group Right Wing Watch.

Speaking at a fundraiser for Kenneth Copeland's ministry, he continued, "When you understand this, you can speed up the time."

Duplantis, the pastor of Covenant Church in Destrehan, St. Charles Parish, a multi-millionaire who owns a private plane and has been criticized for his lavish lifestyle, added, "I realized that I will not move people emotionally to give, I'm gonna have people move according to the Word of God. What is God saying to you?"

Duplantis, 72, then urged people to give, saying, "God the Father would say, 'Jesus, go get 'em.'"
Word of Faith Charlatan Jesse Duplantis to Fleece his Stupid Sheep for 54 Million Dollars to buy a Private Jet
Prosperity Pimp Charlatan Kenneth Copeland is in love with his New $36 Million Jet
Who Are You Following? False Preachers and Teachers Are Transforming Themselves Into the Apostles of Christ
---
If you go to the store to buy Meat, don't run to the Milk section or the Junk Food aisle looking for it!!
The Meat Section is the
True Gospel of Jesus Christ
.
The Milk Section is likened to those who will not preach on sin and
Hell
, just a feel good message, the Social gospel.
The Junk Food Isle is the outright false doctrine AKA the prosperity gospel, name it and claim it, the Hebraic Roots movement and other false teachings!!
Feasting on just Milk and Junk will eventually cause you great harm, you can count on it!!
---
If you appreciate what this Ministry is doing to Expose the Fake Christians, Satanists, Witches, Communist/Socialist Democrats, R.I.N.O Republicans and the assault on our Conservative, True Christian values,
please consider a small donation
to help us continue and expand. This Ministry is not only under attack by the Enemy, we are now under attack from supposed Christians also. It is what
Tom Horn calls 'Blood on the Altar"
!