HYDERABAD, India (Morning Star News) – Christians in eastern India were worshipping on April 29 when Hindu extremists attacked and had them arrested on baseless accusations of operating a "conversion racket," sources said.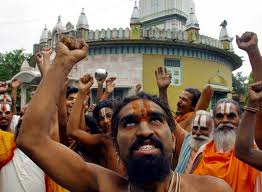 Three of seven Christians arrested have been in jail since then, and yesterday a judge in Danapur, Bihar state, rejected their plea for bail.
Some 60 Hindu extremists stormed into the house church service where 50 Christians had gathered to worship, 19-year-old Angel Pariyar told Morning Star News.
"It was a difficult and tense moment for us," she said. "A huge crowd surrounded our house, and they stopped us from even going inside our own house. We were made to stand outside as they called up police and reported against us, calling our worship service a 'conversion racket.'"
The mob, members of the Hindu extremist Rashtriya Swayamsevak Sangh (RSS), Bajrang Dal and Akhil Bharatiya Vidyarthi Parishad (student wing of RSS), harassed and attacked women, but when police arrived they arrested Pariyar's parents and other Christians, she said.
Her parents, Subash Kumar and wife Sarah, along with Ravi Singh, Rajni Pradhan, Suraj Pradhan, Amit Kumar and Santoshi Devi, were taken into custody by Rupaspur police after the assault. Her parents and aunt, Rajni Pradhan, remain incarcerated.
"60 Hindu youth activists showed up at the entrance of our house and started shouting at us, 'Why are you converting people?' and abused my family in filthy language," Pariyar said. "My mum told the youths that we are only worshipping in our house and asked, 'Why are you interfering in this?'"
Pariyar's family, of Nepalese descent, has lived in India for generations, and the assailants used highly derogatory language as they accused them of coming from Nepal to convert Indian Hindus, she said.
"They issued threats to my parents, 'We will kidnap your daughter – we will take her away,'" Pariyar told Morning Star News. "My father told them that if they have anything against us, let that be against the parents and not children. 'Please don't involve children in this,' he pleaded with them."
She told them her grandfather served with the police in India as her father does now, and that she was proud to be Indian, she said.
"That angered them, and soon they started beating my mum and both my aunts," she said.
The Hindu extremists continue to taunt her when she visits her father, a respected officer with the Bihar Military Police, in jail, she said.
"'Oh! Her dad was caught drunk,' they say and burst into laughter, and another remarks, 'No, it is a case of robbery,'" Pariyar said. "I go there daily and pass by the same people, yet they make sure to say something demeaning to hurt me, and I quietly gather myself and move on. That few feet walk from the prison gate to the visiting room is the most burdened one. It takes lots of patience, but I will bear it all because at least I get to meet my dad daily."
Her 10-year-old brother does not know where his mother and father are, she said.
"I wake him up, get him ready for school, complete the house chores, visit dad at Danapur sub-jail, pick up my brother from school and get back home," she said. "This has been my routine for the past 10 days."
Pariyar told Morning Star News that she appeases her brother by telling him that their parents have gone to a prayer meeting.
"He would say, 'Okay,' but come back again and would ask me over and over, 'When will they be back home?' But I have no answer."
She requested prayers for the release of her parents and aunt.
"My mum and aunt are kept in the women's cell, and their rules are very strict," Pariyar said. "They don't allow us to meet the inmates. I am glad that I at least get to meet my papa daily."
Furious, Uncooperative Police
At the Rupaspur police station, the station house officer initially said only that the Christians were accused of "anti-social activities."
"We received a complaint that the Christian couple are involved in anti-social activities and hence have apprehended them," Dipak Kumar told Morning Star News.
Asked what exactly the anti-social activities were, Kumar became furious.
"They are abusing Hindu gods and goddesses and are forcefully converting people," he said.
Asked what kind of "force" they were using, Kumar said, "I filed the FIR [First Information Report] already. No more questions on this."
He declined to provide a copy of the FIR or disclose the details in it.
Christian advocacy groups flooded the police station in Rupaspur with calls asking him to reveal grounds for the arrest and charges against the Christians, but Kumar remained adamant that "he will drag the Christians to court," sources said.
Attorney Nisha Singh rushed to the police station to initiate the bail procedure, only to have Kumar refuse to begin the process, Singh said.
"I was accompanied by two other lawyers, but the SHO [Kumar] was very uncooperative," she said. "There was severe pressure on him by the RSS, Bajrang Dal and ABVP groups."
He did not allow application for bail, let the families know reasons for the arrest, or issue a copy of the FIR, the attorney said.
"At last he looked at me in rage and said, 'I filed the charge sheet – see you in court!" Singh told Morning Star News.
The Judicial Magistrate of First Class, Danapur, rejected the plea for bail by the three Christians still in jail on Tuesday morning (May 8). The Hindu mob, led by Nagesh Singh and Deepak Singh, chanted "Jai Sri Ram [Hail Lord Ram]" after the court announced that it rejected bail, Pariyar said.
Attorney Sagar Suman, along with Singh defending the Christians, said police violated procedure as outlined in the Criminal Procedure Code.
"It is the duty of the government to look into the matter, investigate it properly and only then an FIR must be registered," Suman said. "But in this case, it is simply a matter of hijacking someone's privacy and violating their constitutional right of freedom to practice a religion of their choice."
The Indian Constitution grants the fundamental right to practice, profess and propagate one's faith under Article 25, and that was what Subash Kumar, his family and others were doing within their house, the attorney told Morning Star News.
"All of a sudden the extremist forces forcefully intruded on their privacy, without any permission they entered their house by force, and instead of filing a case against them, the police filed a case against the minority alleging that they [Christians] are spreading 'communal hatred,'" he said. "It is completely an abuse of the process of law by the police and the lower court."
A police source who requested anonymity said a local politician is exerting intense pressure to mobilize Hindu extremists.
"There is severe pressure from an elected representative from the area who is now a central minister in [Prime Minister Narendra] Modi's government," the source told Morning Star News. "He backs up the youth, encourages them to attack Christians and funds their activities. He just wants to create some sensation, this is their way of expressing loyalty to the BJP [Bharatiya Janata Party]."
Abused in Custody
Ravi Singh, nephew of Subash Kumar, told Morning Star News that police had mistreated the Christians while in custody.
SHO Kumar was irritated that so many advocates called asking what was happening, said Ravi Singh, who spent an entire day in police custody.
"He was scolding my uncle, mocking him, saying, 'Calls are coming from all over India for you today. Even I want to see who can set you free from here.'"
SHO Kumar was doing everything a responsible police officer would not do, he said.
"My mother, Santoshi Devi, was seated on a chair, and the SHO pulled the chair away, and she fell down," Singh said. "Not just that, Kumar thrashed my uncle, Subash Kumar, several times while he continued ridiculing and mocking him for being a Christian."
By 8 p.m. the attorney could get only four of the arrested Christians released on bail: Ravi Singh, Suraj Pradhan, Amit Kumar and Santoshi Devi, attorney Nisha Singh told Morning Star News.
A counter-FIR was filed against the assailants only after the judge rejected the bail plea submitted by the Christians.
Fake News
Pariyar said local newspapers published false statements by Hindu extremists that a non-profit her mother heads, the Prerna Foundation Trust, was converting Hindus to Christianity.
"Nobody tried to contact us to find out the truth," she said. "It is not true; my mother only works for women's empowerment. She never mixed religion with her work."
The foundation has been successful in forming self-help groups and micro-enterprises that provide employment to women in Bihar, she added.
Pariyar said that the smile on her jailed father's face gives her hope.
"My papa always told us that following Christ is not an easy path and that we need to be ready for everything," she said. "Now I can recall him telling us, 'There will be suffering, oppression, but we must stand for Christ. Christ, and Christ alone.'"
The hostile tone of the National Democratic Alliance government, led by the Hindu nationalist BJP, against non-Hindus, has emboldened Hindu extremists in several parts of the country to attack Christians since Modi took power in May 2014, religious rights advocates say.
India ranked 11th on Christian support organization Open Doors' 2018 World Watch List of countries where Christians experience the most persecution.
© 2018 Morning Star News. Articles/photos may be reprinted with credit to Morning Star News.
---
If you go to the store to buy Meat, don't run to the Milk section or the Junk Food aisle looking for it!!
The Meat Section is the
True Gospel of Jesus Christ
.
The Milk Section is likened to those who will not preach on sin and
Hell
, just a feel good message, the Social gospel.
The Junk Food Isle is the outright false doctrine AKA the prosperity gospel, name it and claim it, the Hebraic Roots movement and other false teachings!!
Feasting on just Milk and Junk will eventually cause you great harm, you can count on it!!
---
If you appreciate what this Ministry is doing to Expose the Fake Christians, Satanists, Witches, Communist/Socialist Democrats, R.I.N.O Republicans and the assault on our Conservative, True Christian values,
please consider a small donation
to help us continue and expand. This Ministry is not only under attack by the Enemy, we are now under attack from supposed Christians also. It is what
Tom Horn calls 'Blood on the Altar"
!