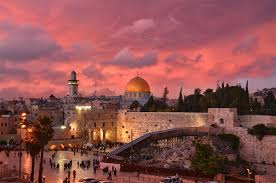 Zechariah 12:2-3 "Behold, I will make Jerusalem a cup of trembling unto all the people round about, when they shall be in the siege both against Judah and against Jerusalem. 3 And in that day will I make Jerusalem a burdensome stone for all people: all that burden themselves with it shall be cut in pieces, though all the people of the earth be gathered together against it."
Jerusalem Post – The Iranian parliament voted to approve a plan on Wednesday that would require the government of Iran to recognize Jerusalem as the permanent capital of the Palestinian people, Iranian news agency Fars reported.
The vote yielded 207 supporters and met with no opposition.
On December 6, US President Donald Trump recognized Jerusalem as the Israeli capital and announced that the American embassy will move from Tel Aviv to Jerusalem.
However, Muslim and Arab countries fiercely opposed that US declaration, and the UN General Assembly adopted a resolution urging the US to change the decision, which was promptly vetoed by the US.
The American decision was met with great enthusiasm in Israel, leading Transportation Minister Israel Katz to declare that a train station to be built by the Western Wall will be named after the American president, Yediot Aharonot reported on Tuesday.
Around the world the US decision sparked a wave of demonstrations around the Islamic world, from Malaysia to Arab towns in Israel. Source: Jerusalem Post