Luke 12:51-53 "Suppose ye that I am come to give peace on earth? I tell you, Nay; but rather division: 52 For from henceforth there shall be five in one house divided, three against two, and two against three.53 The father shall be divided against the son, and the son against the father; the mother against the daughter, and the daughter against the mother; the mother in law against her daughter in law, and the daughter in law against her mother in law."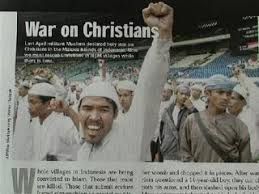 NAIROBI, Kenya (Morning Star News) – In a village in eastern Uganda, it took no more than a day for Munabi Abudallah to lose his wife and seven children after putting his faith in Christ.
"The Muslims are searching to kill me," Abudallah, 37, told Morning Star News by phone. "My family members have deserted me. I am spending sleepless nights."
John 16:2-3 "They shall put you out of the synagogues: yea, the time cometh, that whosoever killeth you will think that he doeth God service. 3 And these things will they do unto you, because they have not known the Father, nor me."
The former Muslim is in hiding after a few simple inquiries of Islamic and Christian leaders in Tirinyi sub-county, Kibuku District, put him on a short journey to faith in Christ.
About two months ago he asked an Islamic teacher, or sheikh, why Arabic was used during Friday prayers at Kataka mosque in Kataka II village. He did not understand Arabic, he told the sheikh.
"When I questioned the sheikh about the use of Arabic language, he said that Arabic is the language in which Allah communicated his message to prophet Muhammad, hence it should not be questioned," Abudallah said.
Troubled by this reply, he began asking Christians how their God communicated to them.
"The church pastor said that God is the God of all people who communicates to people in various languages," Abudallah told Morning Star News. "After several private sessions with the pastor regarding the God of Christianity, it was on Jan. 20 at 4 p.m. when I was convicted that the God of Christianity is a God of love and then decided to put my faith in God's son, Jesus, for which I received a unique peace that I had not experienced before."
After departing, he returned home. That evening, with an irrepressible joy in his heart, he shared his experience with his wife, Aisha Namukoli. She became furious, he said.
"My wife shouted at me in front of the children, saying, 'Kafir, Kafir [infidel]! You are a big shame to the family,'" he said. "She then pushed me out of the house."
John 15:18 "If the world hate you, ye know that it hated me before it hated you."
That night Abudallah managed to get back in and slept in the kitchen. Early in the morning he got up and went to see the pastor of a church, undisclosed for security reasons, and told him the hardships he was facing. The pastor prayed for him, and he turned back toward his home.
As he approached his house at about 6 p.m., Abudallah was surprised to see several people, including his father and members of the Kataka mosque. Their anger was evident, he said. He greeted them, and there was total silence.
His father, he said, stood up and said, "You are no longer my son, be cursed forever."
"He hit me with a walking stick that was in his hand and hurt my left hand," Abudallah said. "I managed to escape through a banana farm, and after a short while I was at the pastor's house."
Abudallah, father of four boys and three girls between the ages of 17 and 3, appeared shaken and in deep emotional pain.
"I need prayers," he said.
Uganda's constitution and other laws provide for religious freedom, including the right to propagate one's faith and convert from one faith to another.
Muslims make up no more than 12 percent of Uganda's population, with many concentrated in the eastern part of the country.
© 2018 Morning Star News. Articles/photos may be reprinted with credit to Morning Star News.
---
If you go to the store to buy Meat, don't run to the Milk section or the Junk Food aisle looking for it!!
The Meat Section is the
True Gospel of Jesus Christ
.
The Milk Section is likened to those who will not preach on sin and
Hell
, just a feel good message, the Social gospel.
The Junk Food Isle is the outright false doctrine AKA the prosperity gospel, name it and claim it, the Hebraic Roots movement and other false teachings!!
Feasting on just Milk and Junk will eventually cause you great harm, you can count on it!!
---
If you appreciate what this Ministry is doing to Expose the Fake Christians, Satanists, Witches, Communist/Socialist Democrats, R.I.N.O Republicans and the assault on our Conservative, True Christian values,
please consider a small donation
to help us continue and expand. This Ministry is not only under attack by the Enemy, we are now under attack from supposed Christians also. It is what
Tom Horn calls 'Blood on the Altar"
!