1st Thessalonians 5:22 "Abstain from all appearance of evil."
2nd Corinthians 6:14-18 "Be ye not unequally yoked together with unbelievers: for what fellowship hath righteousness with unrighteousness? and what communion hath light with darkness? 15 And what concord hath Christ with Belial? or what part hath he that believeth with an infidel? 16 And what agreement hath the temple of God with idols? for ye are the temple of the living God; as God hath said, I will dwell in them, and walk in them; and I will be their God, and they shall be my people. 17 Wherefore come out from among them, and be ye separate, saith the Lord, and touch not the unclean thing; and I will receive you, 18 And will be a Father unto you, and ye shall be my sons and daughters, saith the Lord Almighty."
Hillsong Church Holding Christmas Show At The Mayan Theater In Los Angeles Whose Walls Are Adorned With Depictions Of Child Sacrifice To Molech
Hillsong Church will be holding their 2019 Christmas show at the Mayan Theater in Los Angeles. The Mayan Theater is a nightclub in downtown Los Angeles and was built in 1927. In keeping with the Mayan theme, the facility boasts wall decorations, sculptures, and statues that include depictions of pagan priests sacrificing children.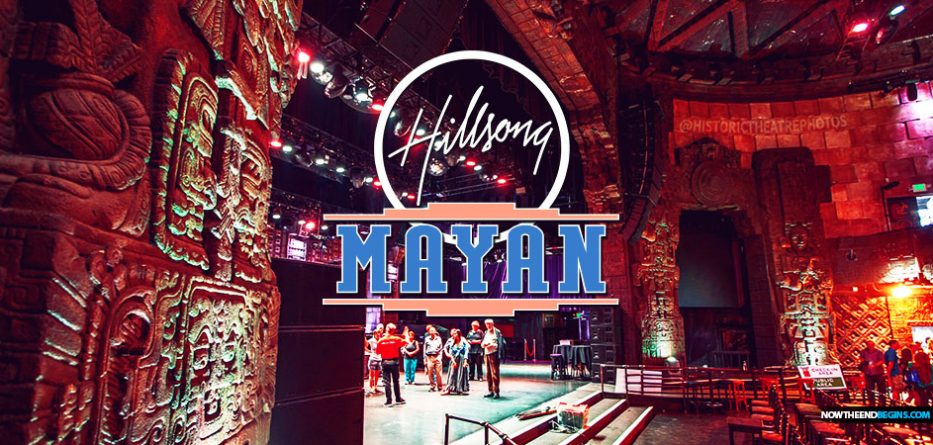 Geoffrey Grider |NTEB – Hillsong Church, the global charismatic prosperity cult headquartered in Australia and headed-up by a pedophile-protecting charlatan, will be observing Christmas worship in a facility that is decorated with scenes of child sacrifice.
"And they built the high places of Baal, which are in the valley of the son of Hinnom, to cause their sons and their daughters to pass through the fire unto Molech; which I commanded them not, neither came it into my mind, that they should do this abomination, to cause Judah to sin." Jeremiah 32:25

Whenever I come across stories like this, I always try to put myself in the mind of the people who do these sort of things. It's good to bring the church out into the world, and let your light so shine before men and all  that, I get it. D.L. Moody held Sunday School for orphans in an active bar on Sunday mornings when it was closed. I get it. But when Moody did it, he preached against the liquor business, he didn't join them. But remember, Moody held his Sunday School in a bar because no other place would give him space, Moody was broke and had no money. He had to use what was offered to him. Hillsong Church is a multimillion dollar corporation who could hold their services literally anywhere.
So why hold services at the Mayan Theater? ?
Holding church services in a theater built to honor pagans who sacrificed children, when they could afford to do it anywhere, shows you where the heart of Hillsong Church is. It's firmly on the glitz and glamour of the world, something which born again Christians are told to turn away from. It would be one thing if Hillsong Church was going there to preach again the pagan culture of the Mayans, but they're not. They're going there to join them. They're going there to sing and dance in a pagan temple in front of imagery of child sacrifice to Molech. Every year I ask myself if Hillsong Church could possibly get worse and somehow sink even lower. And every year they do.
Hillsong L.A. to Worship in Facility Decorated with Depictions of Child Sacrifice
FROM PULPIT & PEN: A concerned reader who recently attended Hillsong Church for the sake of evangelism has reported that they are now beginning to meet periodically for worship at the Mayan Theater in Los Angeles, moving from the Belasco Theater. The service was moved to the Mayan Theater the Sunday prior to Halloween and is again scheduled at the theater for their always controversial flesh-driven Christmas special. But this year, they're throwing in some child sacrifice decorations for the festive occasion.
The Mayan Theater is a nightclub in downtown Los Angeles and was built in 1927. In keeping with the Mayan theme, the facility boasts wall decorations, sculptures, and statues that include depictions of pagan priests sacrificing children.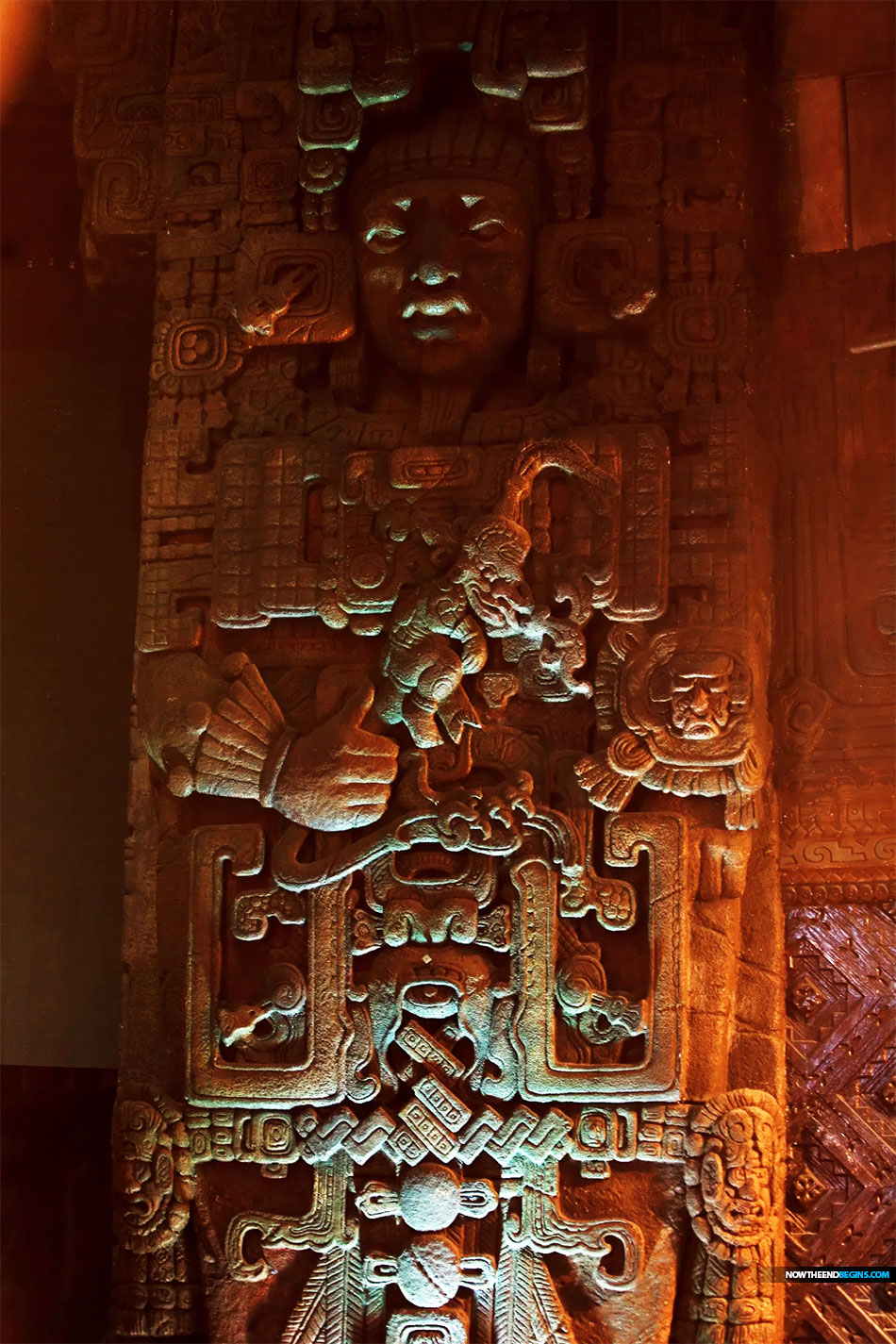 The Mayan Theater is full of pagan imagery and the sacrifices for which the Mayans were characteristically known. The facility is designed as an eye-catching, mesmerizing experience. Most evenings, the facility is turned into a nightclub where the most unspeakable acts of debauchery take place. It is fitting that Hillsong would worship in such an environment and among their gods of the flesh. READ MORE
Listen To Hillsong Founder Brian Houston Saying That Allah Is God
Do Christians serve and worship Allah? Hillsong heretic Brian Houston says we do, click to hear him say it! So you are a follower of Hillsong Church, are you? Like to purchase all their Grammy award-winning "christian" music to 'support their ministry', is it? Well, then you might want to know that the founder of Hillsong United, Brian Houston, believes and preaches that Christians and Muslims 'serve the same God'. Oh heresy, thy name is Chrislam.
This Is Where Hillsong United Brian Houston's Gospel Of Greed Got Started
Today's mega-churches are tax-free money-making monstrosities that teach almost no Bible doctrine of any kind, which is how they attract such a "diverse group of followers" from all walks of life. Imagine what would happen in Rivers Sandton or Hillsong began preaching against the LGBT movement (tens of thousands of followers out the door), started preaching against drinking alcohol (hundreds of thousands of followers out the door), or stopped preaching on Old Testament tithing. Ha! They do that, and they'd have to close up shop overnight.
---
If you go to the store to buy Meat, don't run to the Milk section or the Junk Food aisle looking for it!!
The Meat Section is the
True Gospel of Jesus Christ
.
The Milk Section is likened to those who will not preach on sin and
Hell
, just a feel good message, the Social gospel.
The Junk Food Isle is the outright false doctrine AKA the prosperity gospel, name it and claim it, the Hebraic Roots movement and other false teachings!!
Feasting on just Milk and Junk will eventually cause you great harm, you can count on it!!
---
If you appreciate what this Ministry is doing to Expose the Fake Christians, Satanists, Witches, Communist/Socialist Democrats, R.I.N.O Republicans and the assault on our Conservative, True Christian values,
please consider a small donation
to help us continue and expand. This Ministry is not only under attack by the Enemy, we are now under attack from supposed Christians also. It is what
Tom Horn calls 'Blood on the Altar"
!