Looks like he had the "Self" part down pretty good!
Scum like this is what gives Christianity a black eye. This is NOT True Biblical Christianity Folks and is NOT a church. It, and those like it, are Synagogues of Satan!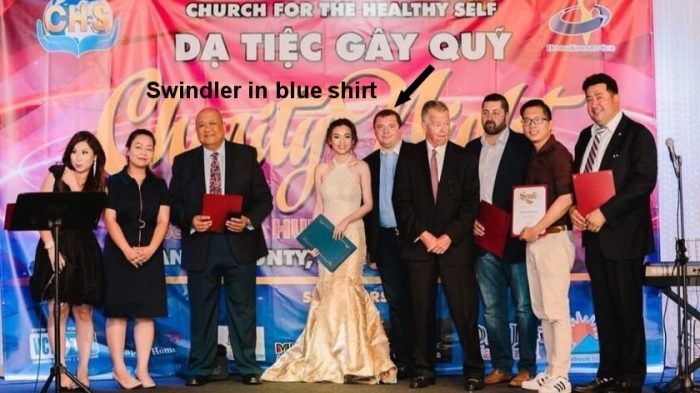 The pastor of a Westminster-based church accused of swindling more than $33 million from investors has agreed to plead guilty to criminal charges, according to the U.S. Attorney's Office.

Kent R.E. Whitney, 38, of Newport Beach is expected to admit to federal counts of mail fraud and filing a false federal income tax return, court filings show.

Prosecutors allege that Whitney ran the Church of the Healthy Self – along with a related investment arm known as CHS Trust – out of a strip mall in Westminster.

Whitney directed church representatives to appear on television and at live seminars – appearances that were recorded and frequently uploaded on YouTube – in order to solicit investments. Among the false and misleading claims prosecutors allege were presented to investors were promises of a 12% rate of return, a guaranteed return of principal with no risk due to federal insurance and a claim the organization was audited by an accounting firm.

In reality, prosecutors say, little investor money went into trading accounts, and fake monthly statements purporting to outline nonexistent investment returns were prepared for investors.

Prosecutors also allege that Whitney reported an income of $17,539 in the 2018 tax year, far less than the $452,872 he is believed to have earned that year. Of that, prosecutors believe $435,333 came from the alleged fraud scheme.

Previous court filings tied to a U.S. Securities and Exchange Commission investigation alleged that investor funds were used to purchase Rolex watches, a Bentley automobile, Gucci apparel and guns, as well as on rent for various Newport Beach properties. That filing also alleged that Whitney founded the church in 2014, three months after completing a 44-month prison sentence for a commodities scam. Source
What is a Synagogue of Satan?
Got Questions – The synagogue of Satan is mentioned twice in Revelation, once in Jesus' letter to the first-century church in Smyrna and once to the church in Philadelphia. In both cases, the synagogue of Satan is opposed to the mission and message of the church.

To the church in Smyrna, Jesus says, "I know your afflictions and your poverty—yet you are rich! I know about the slander of those who say they are Jews and are not, but are a synagogue of Satan" (Revelation 2:9).

To the church of Philadelphia in Asia Minor, Jesus says, "I will make those who are of the synagogue of Satan, who claim to be Jews though they are not, but are liars—I will make them come and fall down at your feet and acknowledge that I have loved you" (Revelation 3:9).

In short, the synagogue of Satan was a group of unbelieving Jews who were persecuting Christians. These groups were guilty of slandering the church in Smyrna and opposing the church in Philadelphia in some way.

The majority of the persecution the New Testament church faced came from the Jewish community. Even most of the Roman persecution was an effort to appease the Jewish authorities. This is true of Pilate's condemnation of Jesus (John 19:1–16) and Paul's imprisonment by the Roman governors Felix (Acts 24:27) and Festus (Acts 25:16). This pattern held true throughout the Roman world in the first century. As long as Christians were considered a sect of Judaism, they were exempt from the required observance of certain aspects of Roman state religion. However, as Christians were expelled from synagogues and denounced by the Jewish leadership, Rome began to see Christianity as a new religion that did not have these same exemptions. Therefore, Christians outside the protective umbrella of the synagogue were open to Roman persecution.

The synagogue of Satan say they are Jews (the people of God), and they persecute those who believe in Jesus the Messiah (the true people of God). In reality, by rejecting the Jewish Messiah, they have renounced their status as "true" Jews, and that is why Jesus calls them "liars." This distinction between ethnic Jews and faithful Jews is also seen in Romans 9:6 ("Not all who are descended from Israel are Israel") and Romans 2:28–29 ("For he is not a Jew who is one outwardly, nor is circumcision that which is outward in the flesh. But he is a Jew who is one inwardly; and circumcision is that which is of the heart, by the Spirit, not by the letter"). By their persecution of the true people of God, these unbelieving Jews had become a synagogue of Satan—a gathering of people who were actually following the devil's priorities.

Both churches are promised victory over the synagogue of Satan. This promise echoes Isaiah 60:14: "The children of your oppressors will come bowing before you; all who despise you will bow down at your feet." In the context of Isaiah 60, an oppressed Jerusalem will be vindicated. Those who oppress her will bow down at her feet and will have to admit that she is indeed blessed by God—in the language of Revelation 3:9—that God loves her. But Isaiah 60:14 applied to these Jews and the Church is something of a reversal. In Isaiah 60, the oppressing Gentiles will bow down at the feet of Jews and admit that God loves them. In Revelation 2—3, oppressing Jews will bow down at the feet of the persecuted Church (with a significant population of Gentiles in it) and admit that God loves them. This is a striking role reversal.

Internet searches of "synagogue of Satan" produce quite a few links to sites that claim the "synagogue of Satan" refers to the Jewish people today and that promote all kinds of conspiracy theories about how the Jews run the world. Quite frankly, this is a misinterpretation and misapplication of the verses in Revelation. The synagogue of Satan refers to specific Jewish communities in Smyrna and Philadelphia that were persecuting the church, not to any modern situation. Likewise, no modern situation should be used as an interpretive tool to explain a passage firmly rooted in the first-century Roman world. Source: Got Questions
---
If you go to the store to buy Meat, don't run to the Milk section or the Junk Food aisle looking for it!!
The Meat Section is the
True Gospel of Jesus Christ
.
The Milk Section is likened to those who will not preach on sin and
Hell
, just a feel good message, the Social gospel.
The Junk Food Isle is the outright false doctrine AKA the prosperity gospel, name it and claim it, the Hebraic Roots movement and other false teachings!!
Feasting on just Milk and Junk will eventually cause you great harm, you can count on it!!
---
If you appreciate what this Ministry is doing to Expose the Fake Christians, Satanists, Witches, Communist/Socialist Democrats, R.I.N.O Republicans and the assault on our Conservative, True Christian values,
please consider a small donation
to help us continue and expand. This Ministry is not only under attack by the Enemy, we are now under attack from supposed Christians also. It is what
Tom Horn calls 'Blood on the Altar"
!