By Ray Gano
A few days ago I was studying the judgments we read about in Revelation.
Here is a quick chart to help you see all the judgements and what chapters they are found in.
7 SEALS
(Rev 6)

 

7 TRUMPETS
(Rev 8,9,11)

7 BOWLS
(Rev 15, 16)

1 ANTI-CHRIST – FALSE PEACE

 1/3 TREES, GRASS DESTROYED

BOILS

2 WAR

1/3 SEA LIFE, SHIPS DESTROYED

 ALL SEA LIFE IS DESTROYED

3 FAMINE

 1/3 FRESH WATER POISONED

 ALL WATER POISONED

4 DEATH

 1/3 SUN, MOON, STARS DARKENED

 SCORCHING SUN

5 DEATH
1/4 POPUL. DESTROYED)

 1ST WOE – DEMONIC LOCUSTS

DEEP DARKNESS –

REBELLIOUS

MANKIND CURSES GOD

 

6 EARTH, HEAVEN SHAKEN
(Massive Earthquake)

144,000 SEALED

 2ND WOE – FIRE & BRIMSTONE

1/3 OF THE PEOPLE LEFT ARE KILLED 

2 PROPHETS PREACH & DO MIRACLES

 

 EUPHRATES RIVER DRY

 

BATTLE OF ARMAGEDDON

7 SILENCE IN HEAVEN

 CHRIST'S REIGN FORSEEN

 WORLDWIDE EARTHQUAKE

BABYLON DESTROYED

HUGE HAILSTONES

 
It was this week that I also noticed an article on Drudge talking about "Pole Shift."
Now this is something that I have been keeping an eye on ever since I have been involved in the prepper community.
Here is an article from Nature.com …
The magnetic pole is moving so quickly that it has forced the world's geomagnetism experts into a rare move.

On 15 January, they are set to update the World Magnetic Model, which describes the planet's magnetic field and underlies all modern navigation, from the systems that steer ships at sea to Google Maps on smartphones.

The most recent version of the model came out in 2015 and was supposed to last until 2020 — but the magnetic field is changing so rapidly that researchers have to fix the model now.

"The error is increasing all the time," says Arnaud Chulliat, a geomagnetist at the University of Colorado Boulder and the National Oceanic and Atmospheric Administration's (NOAA's) National Centers for Environmental Information.

 

The problem lies partly with the moving pole and partly with other shifts deep within the planet. Liquid churning in Earth's core generates most of the magnetic field, which varies over time as the deep flows change. In 2016, for instance, part of the magnetic field temporarily accelerated deep under northern South America and the eastern Pacific Ocean. Satellites such as the European Space Agency's Swarm mission tracked the shift.

First, that 2016 geomagnetic pulse beneath South America came at the worst possible time, just after the 2015 update to the World Magnetic Model. This meant that the magnetic field had lurched just after the latest update, in ways that planners had not anticipated.

Second, the motion of the north magnetic pole made the problem worse. The pole wanders in unpredictable ways that have fascinated explorers and scientists since James Clark Ross first measured it in 1831 in the Canadian Arctic. In the mid-1990s it picked up speed, from around 15 kilometres per year to around 55 kilometres per year. By 2001, it had entered the Arctic Ocean — where, in 2007, a team including Chulliat landed an aeroplane on the sea ice in an attempt to locate the pole.

In 2018, the pole crossed the International Date Line into the Eastern Hemisphere. It is currently making a beeline for Siberia.
If I was not paying attention to both of these topics, odds are I would not have correlated the two. But because I was doing study on the judgments, I looked at the judgements and realized that a good number of them could be the result of a pole shift.
There is concern with the speed that the magnetic pole is moving that IF it picks up enough speed that the poles will actually shift.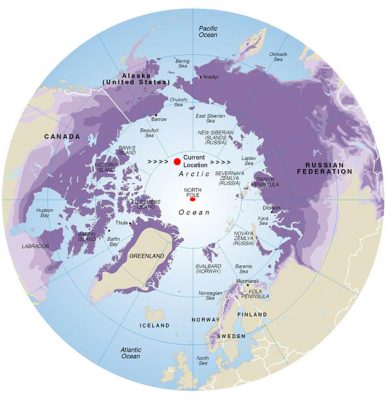 What does that mean?
It means that the north and south pole will actually flip and exchange places.
Have you every played with magnets and watch them flip?
Same thing could happen on a much grander scale.
The reason I say this is one of the first natural disasters that takes place with the judgements is this massive earthquake.
Revelation 6:12 And I beheld when he had opened the sixth seal, and, lo, there was a great earthquake; and the sun became black as sackcloth of hair, and the moon became as blood;
Then there is a silence in Heaven.
All is quiet.
Remember when 9-11 took place and everyone was sent home, no airplanes flew, all trucking stopped?
The one thing that struck me is how quiet suddenly become.
People were not moving about, travel was basically halted unless you held a critical / emergency position. It was quiet.
NOW… imagine a global earthquake. Think of everything that would stop.
1/3 TREES, GRASS DESTROYED

If a pole shift took place, it is presumed that it would affect the atmosphere as well as different layers of the atmosphere. The ozone layer could thin out, we know that there is a hole above the north pole. Could the ozone layer be "pulled" so that "hole" now is exposing landmass further down in latitude and thus burn up trees and grass?
1/3 SEA LIFE, SHIPS DESTROYED
If a huge earthquake took place it would totally rock the seas. Catastrophic storms could definitely destroy ships and also impact sea life. The magnetic shift could also affect many fish that use the earth's magnetism to navigate and know where they are and where they are going.
1/3 FRESH WATER POISONED
With a pole shift and earthquake something could bust open the great lakes which if you do the math, that much water is about 1/3 of the earth's fresh water.
1/3 SUN, MOON, STARS DARKENED
With a pole shift and earthquake is it possible the atmospheric layers do cause the sun moon and stars to become darkened. Maybe so much dust is thrown up in the air from the quake that it impedes the light/s from the sky.
DEMONIC LOCUSTS
Locust do use the earth's magnetic force to guide and direct. Now a lot of people think of helicopters with this verse. But what happens if something does happen to locus due to a pole shift?
FIRE & BRIMSTONE
Fire & Brimstone falling from heaven. I can totally see this take place because earth's magnetic fields have been altered. Gravitational forces change and somehow meteors or maybe satellites start falling, who knows what chemicals, and such are on a lot of those.
1/3 THE PEOPLE LEFT KILLED
Yes, with an earthquake and pole shift, I could easily see 1/3 of people dying. In looking at this, I think that people in the northern hemisphere would be greatly affected as well as the oceans, seas, forests and grasslands. If the ozone layer hole is pulled down to start effecting the upper US, Canada, Upper Europe, Russia and China. How many people do you think are there? Yeah, about 1/3.
BOILS
With our atmosphere being affected and possibly the ozone layer shifting, yes boils, skin cancer, ect are very plausible.
ALL SEA LIFE IS DESTROYED
NOTE this is NOT talking about the oceans. It is talking about seas. There are many inland seas. For example, the great lakes are considered inland seas. The Caspian, Baltic and Northern are all inland seas. Fire & brimstone could affect these large bodies of water. We know that they are easily susceptible to pollution, just look at the great lakes and the water pollution problems that took place there.
ALL WATER POISONED
Again, fire and brimstone. Dust, dirt and other things are falling to the earth after the great earthquake. Ozone layer is shifted, and water is being over radiated, thus killing fish and wildlife. Want to poison water, dump a lot of dead bodies into it.
SCORCHING SUN
With the pole shift, the ozone and other layers may also shift. Without the ozone or other layer protecting man, the sun is much brighter. We do not feel it right now with regards of the ozone layer. But holes are sitting over the norther areas that are not populated.
You can go to the NASA website and look at an animation of the ozone layers in motion.
https://ozonewatch.gsfc.nasa.gov/ozone_maps/movies/OZONE_D1979-01%25P1Y_G%5e360X240.IOMPS_PNPP_V21_MMERRA2_LSH.mp4
What would happen if those holes shifted further south? Would it affect man, beast, water, trees and landscape?
DEEP DARKNESS
This one has me, but again what would happen if one of the atmospheric layers shifted somehow, much like polarized glass. You turn the glass one way you can see through the glass, turn it another way and it is black, and you cannot see through it. We know that this takes place for a limited amount of time, so if some of the layers of atmosphere were shifted / shuffled could there be some sort of polarized effect that would take place?
Maybe the pole shift causes volcanoes erupt. If Yellowstone blows, the ash would block out the sun in much of the US and also effect the world as a whole.
EUPHRATES RIVER DRY
Hot sun and shifted atmospheric layers, I could totally see this taking place as well as some of the other major rivers in the world that are part of the northern hemisphere.
MASSIVE EARTHQUAKE
I would think that if there is a pole shift, earthquake would become common, probably volcanoes also. Earth's magnetism is trying to right itself again. There is a lot of movement taking place.
HUGE HAILSTONES
With our atmosphere being affected by a literal pole shift, I could totally see this take place. Earth's magnetic / gravitational pull affects a lot of our weather patterns. Huge hail stones falling from the sky would wreak a lot of havoc. Just look at some of the hail storms we have had recently.
IN FACT, there was a total fluke hailstorm with baseball sized hail in Panama, Central America.  That hail storm destroyed a lot of crops, killed animals and a few people and destroyed a lot of people's personal property.
18 OUT OF 29 ARE POLE SHIFT RELATED
It is pretty interesting when you look at all the judgements and what takes place, 16 out of 29 events could be attributed to a pole shift.
There are some other things that you could be attributed to the Pole Shift…
CHRIST'S REIGN FORSEEN – With these "end of the world" events, the return of Christ is seen.
REBELLIOUS MANKIND CURSES GOD – Again, people upset at God for allowing this to happen.
So that is now 18 out of 29 events and that is almost 2/3 of the biblical events that could be tied to a possible pole shift.
Is a Pole Shift something unusual?
According to NASA, no.
Magnetic Pole Reversal Happens All The (Geologic) Time

Scientists understand that Earth's magnetic field has flipped its polarity many times over the millennia. In other words, if you were alive about 800,000 years ago, and facing what we call north with a magnetic compass in your hand, the needle would point to 'south.' This is because a magnetic compass is calibrated based on Earth's poles. The N-S markings of a compass would be 180 degrees wrong if the polarity of today's magnetic field were reversed. Many doomsday theorists have tried to take this natural geological occurrence and suggest it could lead to Earth's destruction. But would there be any dramatic effects? The answer, from the geologic and fossil records we have from hundreds of past magnetic polarity reversals, seems to be 'no.'

Reversals are the rule, not the exception.

Earth's polarity is not a constant. Unlike a classic bar magnet, or the decorative magnets on your refrigerator, the matter governing Earth's magnetic field moves around. Geophysicists are pretty sure that the reason Earth has a magnetic field is because its solid iron core is surrounded by a fluid ocean of hot, liquid metal.

Source – https://www.nasa.gov/topics/earth/features/2012-poleReversal.html
In some of the other scientific research, it stated that to come to a pole shift would take a millennium, but the shift itself would actually take place rather quickly.
What would it feel like if all the hot liquid metal suddenly did a tweek, spin or jerk adjustment?
I know it would get man's attention in a big way.
If you have any questions or comments, please feel free to contact me.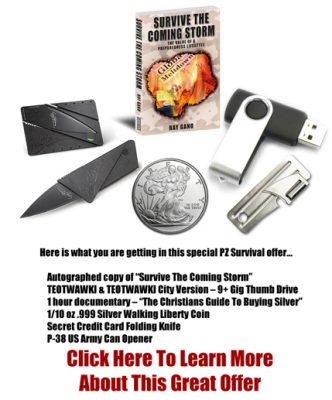 Posted by request from Ray Gano
---
If you go to the store to buy Meat, don't run to the Milk section or the Junk Food aisle looking for it!!
The Meat Section is the
True Gospel of Jesus Christ
.
The Milk Section is likened to those who will not preach on sin and
Hell
, just a feel good message, the Social gospel.
The Junk Food Isle is the outright false doctrine AKA the prosperity gospel, name it and claim it, the Hebraic Roots movement and other false teachings!!
Feasting on just Milk and Junk will eventually cause you great harm, you can count on it!!
---
If you appreciate what this Ministry is doing to Expose the Fake Christians, Satanists, Witches, Communist/Socialist Democrats, R.I.N.O Republicans and the assault on our Conservative, True Christian values,
please consider a small donation
to help us continue and expand. This Ministry is not only under attack by the Enemy, we are now under attack from supposed Christians also. It is what
Tom Horn calls 'Blood on the Altar"
!