Update 4/14/2020: People are also asking why is God allowing the current Chi-Comm Wuhan Coronavirus, Covid-19 to happen. The answer is the same for any calamity or event. A Sin sick world!
Atheist Harvard Professor Pinker: Where Was God When Florida Massacre Happened?
People are asking the same thing about the Santa Fe School Shooting and the answer is Still the same!
1st Corinthians 2:14-16 "But the natural man receiveth not the things of the Spirit of God: for they are foolishness unto him: neither can he know them, because they are spiritually discerned.15 But he that is spiritual judgeth all things, yet he himself is judged of no man.16 For who hath known the mind of the Lord, that he may instruct him? But we have the mind of Christ."
I saw that headline, and others, from the God hating leftists gloating and mocking asking where was God and why didn't he stop the shooting. I also saw this Meme on social media and it answers the why pretty good.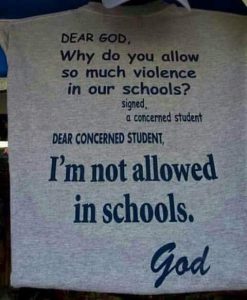 Well mister smarty pants professor with no common sense, here is the answer to your question.
He was right there with ALL the time, even though He has been KICKED out of schools. And I will add, IF the students who died were " Born Again", they were immediately ushered to heaven to be with Jesus!
Revelation 3:20 "Behold, I stand at the door, and knock: if any man hear my voice, and open the door, I will come in to him, and will sup with him, and he with me."
That is the problem with the world. God, especially Jesus, is NOT welcome. He is knocking on many doors and people ignore and tell him to go away! Sadly, it is the same way in many churches that claim to be Christian!
If smarty pants would ask, perhaps God would instruct Satan to stop buffeting him with ignorance giving him a bit of common sense and bit of discernment. Then he could read the Word of God, say the Book of Job, and he would find the answer to his question. I doubt he was asking the question to gain wisdom, but was Mocking Christians!
Psalms 10:4 "The wicked, through the pride of his countenance, will not seek after God: God is not in all his thoughts."
Breitbart – Saturday on MSNBC's "Hugh Hewitt," Harvard professor Steven Pinker asked where was God during the shooting at Marjory Stoneman Douglas High School in Parkland, FL that left 17 dead.

Discussing his book, Pinker said, "It is not against religion. It is certainly against the belief that God interferes with the laws of the universe and that by praying to him we can make the world better. I think that is a dangerous belief because it's not true. If we want to make the world better, we have to figure out how to do it ourselves. If we want to cure disease, we have to come up with antibiotics and vaccines and not prayer. If we want to stave off global warming, we can't assume God won't let bad things happen."

He continued on tragedies like the Florida shooting, "Cast doubt on the idea that there is a benevolent shepherd who looks out for human welfare. What was the benevolent shepherd doing while the teenager was massacring his classmates?"

He added, "If you're counting on God to make the world a better place you are probably going to make the world a worse place because he is not listening and we saw that yesterday." See video of the idiot at Breitbart News
So where was God why does he allow bad stuff to happen?
Romans 8:28 "And we know that all things work together for good to those who love God, to those who are the called according to His purpose."
To sum it up in a few words……., SIN, FREE WILL and there is a DEVIL loose!
17 Year Old Texas Girl Stabs HER Newborn to death minutes after giving birth Why did this young lady kill her baby? Why are there Millions of babies sacrificed to Satan every year via Abortion? Why do drunks in a car crash live and sober people die?
Why does God allow evil?

Got Questions – The Bible describes God as holy (Isaiah 6:3), righteous (Psalm 7:11), just (Deuteronomy 32:4), and sovereign (Daniel 4:17-25). These attributes tell us the following about God: (1) God is capable of preventing evil, and (2) God desires to rid the universe of evil. So, if both of these are true, why does God allow evil? If God has the power to prevent evil and desires to prevent evil, why does He still allow evil? Perhaps a practical way to look at this question would be to consider some alternative ways people might have God run the world:

1) God could change everyone's personality so that they cannot sin. This would also mean that we would not have a free will. We would not be able to choose right or wrong because we would be "programmed" to only do right. Had God chosen to do this, there would be no meaningful relationships between Him and His creation.

Instead, God made Adam and Eve innocent but with the ability to choose good or evil. Because of this, they could respond to His love and trust Him or choose to disobey. They chose to disobey. Because we live in a real world where we can choose our actions but not their consequences, their sin affected those who came after them (us). Similarly, our decisions to sin have an impact on us and those around us and those who will come after us.

2) God could compensate for people's evil actions through supernatural intervention 100 percent of the time. God would stop a drunk driver from causing an automobile accident. God would stop a lazy construction worker from doing a substandard job on a house that would later cause grief to the homeowners. God would stop a father who is addicted to drugs or alcohol from doing any harm to his wife, children, or extended family. God would stop gunmen from robbing convenience stores. God would stop high school bullies from tormenting the brainy kids. God would stop thieves from shoplifting. And, yes, God would stop terrorists from flying airplanes into buildings.

While this solution sounds attractive, it would lose its attractiveness as soon as God's intervention infringed on something we wanted to do. We want God to prevent horribly evil actions, but we are willing to let "lesser-evil" actions slide—not realizing that those "lesser-evil" actions are what usually lead to the "greater-evil" actions. Should God only stop actual sexual affairs, or should He also block our access to pornography or end any inappropriate, but not yet sexual, relationships? Should God stop "true" thieves, or should He also stop us from cheating on our taxes? Should God only stop murder, or should He also stop the "lesser-evil" actions done to people that lead them to commit murder? Should God only stop acts of terrorism, or should He also stop the indoctrination that transformed a person into a terrorist?

3) Another choice would be for God to judge and remove those who choose to commit evil acts. The problem with this possibility is that there would be no one left, for God would have to remove us all. We all sin and commit evil acts (Romans 3:23; Ecclesiastes 7:20; 1 John 1:8). While some people are more evil than others, where would God draw the line? Ultimately, all evil causes harm to others.

Instead of these options, God has chosen to create a "real" world in which real choices have real consequences. In this real world of ours, our actions affect others. Because of Adam's choice to sin, the world now lives under the curse, and we are all born with a sin nature (Romans 5:12). There will one day come a time when God will judge the sin in this world and make all things new, but He is purposely "delaying" in order to allow more time for people to repent so that He will not need to condemn them (2 Peter 3:9). Until then, He IS concerned about evil. When He created the Old Testament laws, the goal was to discourage and punish evil. He judges nations and rulers who disregard justice and pursue evil. Likewise, in the New Testament, God states that it is the government's responsibility to provide justice in order to protect the innocent from evil (Romans 13). He also promises severe consequences for those who commit evil acts, especially against the "innocent" (Mark 9:36-42).

In summary, we live in a real world where our good and evil actions have direct consequences and indirect consequences upon us and those around us. God's desire is that for all of our sakes we would obey Him that it might be well with us (Deuteronomy 5:29). Instead, what happens is that we choose our own way, and then we blame God for not doing anything about it. Such is the heart of sinful man. But Jesus came to change men's hearts through the power of the Holy Spirit, and He does this for those who will turn from evil and call on Him to save them from their sin and its consequences (2 Corinthians 5:17). God does prevent and restrain some acts of evil. This world would be MUCH WORSE were not God restraining evil. At the same time, God has given us the ability to choose good and evil, and when we choose evil, He allows us, and those around us, to suffer the consequences of evil. Rather than blaming God and questioning God on why He does not prevent all evil, we should be about the business of proclaiming the cure for evil and its consequences—Jesus Christ! Source: Got Questions
Why does God allow bad things to happen to good people?
Got Questions –  This is one of the most difficult questions in all of theology. God is eternal, infinite, omniscient, omnipresent, and omnipotent. Why should human beings (not eternal, infinite, omniscient, omnipresent, or omnipotent) expect to be able to fully understand God's ways? The book of Job deals with this issue. God had allowed Satan to do everything he wanted to Job except kill him. What was Job's reaction? "Though he slay me, yet will I hope in him" (Job 13:15). "The LORD gave and the LORD has taken away; may the name of the LORD be praised" (Job 1:21). Job did not understand why God had allowed the things He did, but he knew God was good and therefore continued to trust in Him. Ultimately, that should be our reaction as well.

Why do bad things happen to good people? The biblical answer is there are no "good" people. The Bible makes it abundantly clear that all of us are tainted by and infected with sin (Ecclesiastes 7:20; Romans 3:23; 1 John 1:8). Romans 3:10-18 could not be clearer about the non-existence of "good" people: "There is no one righteous, not even one; there is no one who understands, no one who seeks God. All have turned away, they have together become worthless; there is no one who does good, not even one. Their throats are open graves; their tongues practice deceit. The poison of vipers is on their lips. Their mouths are full of cursing and bitterness. Their feet are swift to shed blood; ruin and misery mark their ways, and the way of peace they do not know. There is no fear of God before their eyes." Every human being on this planet deserves to be thrown into hell at this very moment. Every second we spend alive is only by the grace and mercy of God. Even the most terrible misery we could experience on this planet is merciful compared to what we deserve, eternal hell in the lake of fire.

A better question would be "Why does God allow good things to happen to bad people?" Romans 5:8 declares, "But God demonstrates his own love for us in this: While we were still sinners, Christ died for us." Despite the evil, wicked, sinful nature of the people of this world, God still loves us. He loved us enough to die to take the penalty for our sins (Romans 6:23). If we receive Jesus Christ as Savior (John 3:16; Romans 10:9), we will be forgiven and promised an eternal home in heaven (Romans 8:1). What we deserve is hell. What we are given is eternal life in heaven if we come to Christ in faith.

Yes, sometimes bad things happen to people who seem undeserving of them. But God allows things to happen for His reasons, whether or not we understand them. Above all, however, we must remember that God is good, just, loving, and merciful. Often things happen to us that we simply cannot understand. However, instead of doubting God's goodness, our reaction should be to trust Him. "Trust in the LORD with all your heart and lean not on your own understanding; in all your ways acknowledge Him, and He will make your paths straight" (Proverbs 3:5-6). Source: Got Questions
Why does God allow the innocent to suffer?
Got Questions – In answering this question, the first thing to consider is whether such a thing as "the innocent" even exists. According to the Bible, "the heart is wicked and deceitful above all things" (Jeremiah 17:9), and "all have sinned and fallen short of the glory of God" (Romans 3:23). Therefore, no one is innocent in the sense of being sinless. Sin entered the world when Adam and Eve rebelled against God in the Garden of Eden, and mankind has been in rebellion ever since. Sin's effects permeate everything, and the suffering we see all around us is a direct result of that sin.

But God did not leave us here to suffer pointlessly. Our loving and merciful God has a perfect plan to use that suffering to accomplish His threefold purpose. First, He uses pain and suffering to draw us to Himself so that we will cling to Him. Jesus said, "In the world you shall have tribulation" (John 16:33). Trials and distress are not something unusual in life; they are part of what it means to be human in a fallen world. In Christ we have an anchor that holds fast in all the storms of life, but if we never sail into those storms, how would we know that? It is in times of despair and sorrow that we reach out to Him, and, if we are His children, we always find Him there waiting to comfort and uphold us through it all. In this way, He proves His faithfulness to us and ensures that we will stay close to Him. An added benefit is that as we experience God's comfort through trials, we are then able to comfort others in the same way (2 Corinthians 1:4).

Second, He proves to us that our faith is real through the suffering and pain that are inevitable in this life. How we respond to suffering is determined by the genuineness of our faith. Those with faith truly from God, "the author and finisher of our faith" (Hebrews 12:2), will not be crushed by suffering, but will come through the trial with their faith intact, having been "proven through fire" so that it "might be found to praise and honor and glory at the revelation of Jesus Christ" (1 Peter 1:7). Those are the ones who do not shake their fists at God or question His goodness, but instead "count it all joy" (James 1:2), knowing that trials prove that they are truly the children of God. "Blessed is the man who endures temptation, because having been approved, he will receive the crown of life which the Lord has promised to those who love Him" (James 1:12).

Finally, God uses suffering to take our eyes off this world and put them on the next. The Bible continually exhorts us to not get caught up in the things of this world, but to look forward to the world to come. This world and all that is in it will pass away, but the kingdom of God is eternal. Jesus said, "My kingdom is not of this world" (John 18:36), and those who would follow Him must not see the things of this life, both good and bad, as the end of the story. Even the sufferings we endure and which seem so terrible "are not worthy to be compared with the coming glory to be revealed in us" (Romans 8:18).

Could God prevent all suffering? Of course. But He assures us that "all things work together for good to those who love God and are called according to His purpose" (Romans 8:28). So even suffering is part of the "all things" that God is using to accomplish His good purposes. His plan is perfect, His character is flawless, and those who trust Him will not be disappointed. Source: Got Questions
Why does God allow us to go through trials and tribulations?
Got Questions –  One of the most difficult parts of the Christian life is the fact that becoming a disciple of Christ does not make us immune to life's trials and tribulations. Why would a good and loving God allow us to go through such things as the death of a child, disease and injury to ourselves and our loved ones, financial hardships, worry and fear? Surely, if He loved us, He would take all these things away from us. After all, doesn't loving us mean He wants our lives to be easy and comfortable? Well, no, it doesn't. The Bible clearly teaches that God loves those who are His children, and He "works all things together for good" for us (Romans 8:28). So that must mean that the trials and tribulations He allows in our lives are part of the working together of all things for good. Therefore, for the believer, all trials and tribulations must have a divine purpose.

As in all things, God's ultimate purpose for us is to grow more and more into the image of His Son (Romans 8:29). This is the goal of the Christian, and everything in life, including the trials and tribulations, is designed to enable us to reach that goal. It is part of the process of sanctification, being set apart for God's purposes and fitted to live for His glory. The way trials accomplish this is explained in 1 Peter 1:6-7: "In this you greatly rejoice, even though now for a little while, if necessary, you have been distressed by various trials, that the proof of your faith, being more precious than gold which perishes, even though tested by fire, may be found to result in praise and glory and honor at the revelation of Jesus Christ." The true believer's faith will be made sure by the trials we experience so that we can rest in the knowledge that it is real and will last forever.

Trials develop godly character, and that enables us to "rejoice in our sufferings, because we know that suffering produces perseverance; perseverance, character; and character, hope. And hope does not disappoint us, because God has poured out his love into our hearts by the Holy Spirit, whom he has given us" (Romans 5:3-5). Jesus Christ set the perfect example. "But God demonstrates His own love toward us, in that while we were yet sinners, Christ died for us" (Romans 5:8). These verses reveal aspects of His divine purpose for both Jesus Christ's trials and tribulations and ours. Persevering proves our faith. "I can do all things through Christ, who strengthens me" (Philippians 4:13).

However, we must be careful never to make excuses for our "trials and tribulations" if they are a result of our own wrongdoing. "By no means let any of you suffer as a murderer, or thief, or evildoer, or a troublesome meddler" (1 Peter 4:15). God will forgive our sins because the eternal punishment for them has been paid by Christ's sacrifice on the cross. However, we still have to suffer the natural consequences in this life for our sins and bad choices. But God uses even those sufferings to mold and shape us for His purposes and our ultimate good.

Trials and tribulations come with both a purpose and a reward. "Consider it all joy, my brethren, when you encounter various trials, knowing that the testing of your faith produces endurance. And let endurance have its perfect result, that you may be perfect and complete, lacking in nothing. . . . Blessed is the man who perseveres under trial; for once he has been approved, he will receive the crown of life, which the Lord has promised to those who love Him" (James 1:2-4,12).

Through all of life's trials and tribulations, we have the victory. "But thanks be to God, who gives us the victory through our Lord, Jesus Christ." Although we are in a spiritual battle, Satan has no authority over the believer in Christ. God has given us His Word to guide us, His Holy Spirit to enable us, and the privilege of coming to Him anywhere, at any time, to pray about anything. He has also assured us that no trial will test us beyond our ability to bear it, and "he will also provide a way out so that you can stand up under it" (1 Corinthians 10:13). Source: Got Questions
God has never promised anyone, not even a Christian who has been Born Again, and easy road and an easy life. The enemy, Satan and his minions, are constantly trying to destroy all humans who God has made and breathed life into.
1st Peter 5:8 "Be sober, be vigilant; because your adversary the devil, as a roaring lion, walketh about, seeking whom he may devour:"
John 10:10 "The thief cometh not, but for to steal, and to kill, and to destroy: I am come that they might have life, and that they might have it more abundantly."
---
If you go to the store to buy Meat, don't run to the Milk section or the Junk Food aisle looking for it!!
The Meat Section is the
True Gospel of Jesus Christ
.
The Milk Section is likened to those who will not preach on sin and
Hell
, just a feel good message, the Social gospel.
The Junk Food Isle is the outright false doctrine AKA the prosperity gospel, name it and claim it, the Hebraic Roots movement and other false teachings!!
Feasting on just Milk and Junk will eventually cause you great harm, you can count on it!!
---
If you appreciate what this Ministry is doing to Expose the Fake Christians, Satanists, Witches, Communist/Socialist Democrats, R.I.N.O Republicans and the assault on our Conservative, True Christian values,
please consider a small donation
to help us continue and expand. This Ministry is not only under attack by the Enemy, we are now under attack from supposed Christians also. It is what
Tom Horn calls 'Blood on the Altar"
!