Canadian PM Justin Trudeau Says All Men Should Be Feminists, Calls For End to Bro Culture
This is the kind of "Bro's" Jolly Justin  likes. You know, the Fudge Packers!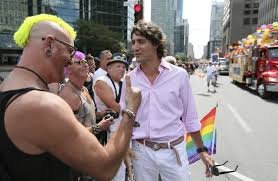 Chris Menahan Information Liberation – Canadian Prime Minister Justin Trudeau called for "Bro culture" to come to an end and said all men need to become feminists and "shut down" one another's "negative conversations" in locker rooms.
"It's not only that men can be feminists, it's that men should be feminists as well," Trudeau said with a lisp Wednesday at a United Nations youth empowerment meeting in New York.