Make Sodom Great Again? Trump's 'Celebrate Pride Month' Tweets Urge Nations to Join in Effort to Legalize Homosexuality
WASHINGTON — President Trump posted two tweets on Friday in recognition of homosexual and transgender "Pride Month," asking Americans to "stand in solidarity" with homosexuals who live in countries where such sexual practices are illegal, as well as for nations to join his administration's campaign to decriminalize homosexuality worldwide.
"As we celebrate LGBT Pride Month and recognize the outstanding contributions LGBT people have made to our great nation, let us also stand in solidarity with the many LGBT people who live in dozens of countries worldwide that punish, imprison, or even execute individuals on the basis of their sexual orientation," he wrote.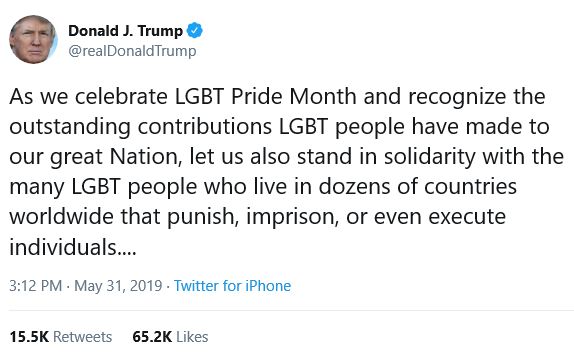 "My administration has launched a global campaign to decriminalize homosexuality and invite all nations to join us in this effort!" Trump urged.
As of press time, the initial tweet has 65K likes and more than 15K retweets.
In February, NBC News reported that U.S. Ambassador to Germany Mike Grenell would be leading the effort to decriminalize homosexuality worldwide.
It noted that "[t]he U.S. embassy is flying in LGBT activists from across Europe for a strategy dinner to plan to push for decriminalization in places that still outlaw homosexuality — mostly concentrated in the Middle East, Africa and the Caribbean."
Grenell, an open homosexual, told Fox News last month that Vice President Mike Pence was on board with the effort.
"I … want to just point out the fact that the vice president, Mike Pence, is fully on board with my push to decriminalize homosexuality around the world," he said, as he sought to push back against assertions from Democratic presidential candidate Pete Buttigieg that Pence is "anti-gay."
The ambassador noted that homosexuality is illegal in 71 countries, and in some nations, it can result in prison time or the death penalty. Read more here
---
UK Woman Shares Story of Turning From Homosexuality to Follow Jesus
The Christian Institute — A woman who walked away from her lesbian relationship to pursue Jesus has told The Christian Institute how God turned her life around.
After hearing a song she knew from her churchgoing childhood on the radio, Sarah Sedgwick explored the possibility of living as a "gay Christian." But she realized, through the ministry of her Methodist church, that the Bible is clear why homosexual practice is wrong. She ended the relationship with her lesbian partner and committed her whole life to God.
Speaking exclusively to The Christian Institute, Sarah explained that she wants to inspire others to read and understand what the Bible actually says about God's good design for men and women.
She also wants to encourage parents to persevere in praying for their "prodigal" children.
Psalm 119:130 says, "The entrance of Thy words giveth light." Continue reading this story
---
IKEA to Hoist Rainbow Flag at Stores for Pride Month, Sell Rainbow Bag to Benefit Homosexual Advocacy Group
The popular home furnishings chain IKEA has announced that it will be hoisting the rainbow flag at its stores nationwide beginning June 1 in observance of Pride Month, and will also sell rainbow reusable shopping bags that will benefit the homosexual advocacy group Human Rights Campaign Foundation (HRCF).
"We are excited to partner with the Human Rights Campaign Foundation for Pride Month," Rafael Fantauzzi, company diversity and inclusion manager, said in a statement. "At IKEA, our culture is centered on the value of togetherness. We believe equality is a fundamental human right and that all homes are created equal."
"To further show our commitment to equality and LGBTQ+ inclusion, on June 1, our co-workers will hoist the Pride Rainbow flag at all IKEA locations," it outlined.
The shopping bags, which are a rainbow Kvanting version of the company's customary blue frakta bags, will be sold for $3.99 with all proceeds going to HRCF and its youth and family homosexual advocacy programs.
"We invite all IKEA co-workers and customers to show their support for the rights of people of all sexual orientations and gender identities as we continue to press for a fully inclusive work environment and community," IKEA further states on the UK version of its "diversity and inclusion" webpage.
The bag is currently for sale in the UK and Ireland, and flags were reportedly hoisted on May 17.
In its U.S. press release, the company lauded what it views as its various strides in regard to those who identify as homosexual or transgender, outlining that the company's insurance plan offers benefits for homosexual workers and their household, and the "IKEA U.S. medical plan … covers a portion of gender confirmation counseling and surgery."
IKEA also touted that 2019 marks the 25th year since it first ran a homosexual-themed advertisement, which it characterized as "groundbreaking."
"The ad, which aired in 1994, was the first national TV spot to ever feature a gay couple — two men shopping together for a dining room table at an IKEA store," the organization noted. Read more here
---
Church of Scotland Church Criticized for Maintaining Bible's Teaching on Marriage
(The Christian Institute) — A Church of Scotland parish church in Dumfriesshire has come under fire for maintaining the biblical position that marriage is between one man and one woman.
Glencairn and Moniaive Parish Church and Dunscore Parish Church share a minister. After the incumbent's retirement, the churches considered whether to change their position to allow those in a civil partnership or same-sex "marriage" to apply for the position.
While Dunscore was in favor, Glencairn and Moniaive was not, which meant that under Church of Scotland rules, the status quo remains. Read more here
---
If you go to the store to buy Meat, don't run to the Milk section or the Junk Food aisle looking for it!!
The Meat Section is the
True Gospel of Jesus Christ
.
The Milk Section is likened to those who will not preach on sin and
Hell
, just a feel good message, the Social gospel.
The Junk Food Isle is the outright false doctrine AKA the prosperity gospel, name it and claim it, the Hebraic Roots movement and other false teachings!!
Feasting on just Milk and Junk will eventually cause you great harm, you can count on it!!
---
If you appreciate what this Ministry is doing to Expose the Fake Christians, Satanists, Witches, Communist/Socialist Democrats, R.I.N.O Republicans and the assault on our Conservative, True Christian values,
please consider a small donation
to help us continue and expand. This Ministry is not only under attack by the Enemy, we are now under attack from supposed Christians also. It is what
Tom Horn calls 'Blood on the Altar"
!